August 26, 2014 - 5:46pm
A close up view of the Northern water snake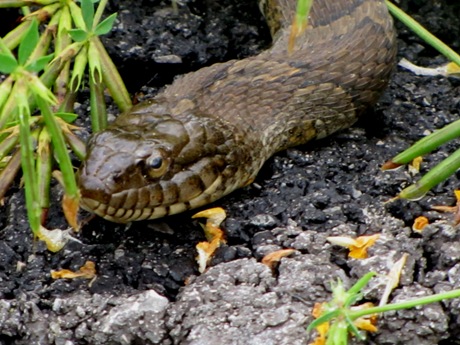 I was walking along the edge of a meadow last week hoping for pics of butterflies and wildflowers. The last thing I expected to come across was a pair of water snakes. Very large water snakes. Both specimens stretched over 40 inches in length.
Until this day, all water snakes I've encountered were either in the water or at the edge of a lake, stream or pond, their preferred habitat. These two were more than 20 yards from a pond loaded with frogs. A stone's throw in the opposite direction is a narrow, sluggish, alga-covered stream filled with tidbits on the water snake's menu.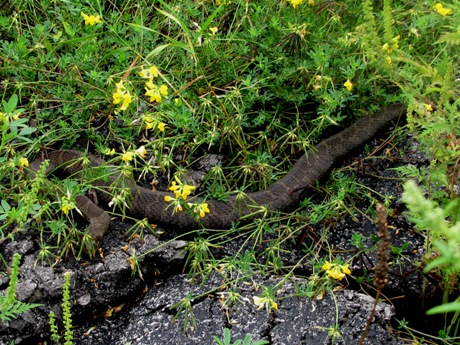 Okay, so this pair of snakes was a bit out of their juristiction. No big deal. But a couple of days later I came across them again in the same location. And a third time less than a week later, same thing. Oddly enough, each time I saw them, the smaller snake, if you could call it that, was nearly stretched out while the darker, obviously older snake, was tightly looped, its head hidden in the meadow grass.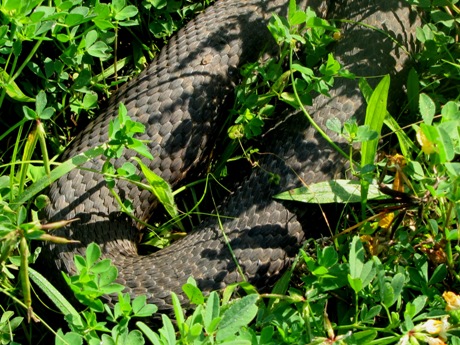 Northern water snakes mate around April - June and give birth between August and October. Could the larger of the two have been a female ready to give birth. Was the other the papa or might it have been hanging around hoping for an easy meal? For what it's worth, once the offspring are born there is no nurturing, young are immediately on their own.  
The Northern water snake is active both during the day and night and their prey list quite extensive. Mice, meadow voles, crayfish, frogs, fish, birds and other snakes just to name a few. In turn, the water snake is preyed upon by hawks, owls, herons, fox and possums. On the other hand, given the size of the water snakes pictured here, they may have little or nothing to fear except man.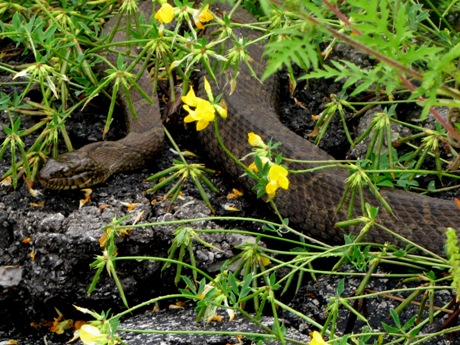 The meadow and nearby fallow fields, now rife with wildflowers, were teeming with ground nesting bobolinks less than two months ago. I wouldn't be surprised if this pair of well fed serpents took advantage of the nesting season and helped themselves to eggs, fledglings and perhaps adult bobolinks caught off guard.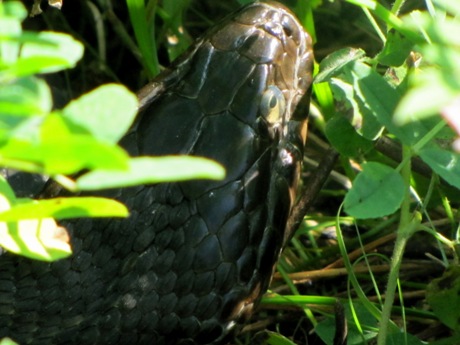 This is the larger of the two doing its best to remain concealed. The cloudy  appearance of its eye indicates its getting ready to shed its skin. With age, the water snake's tell-tale markings begin to fade and eventually they will appear dark brown or black.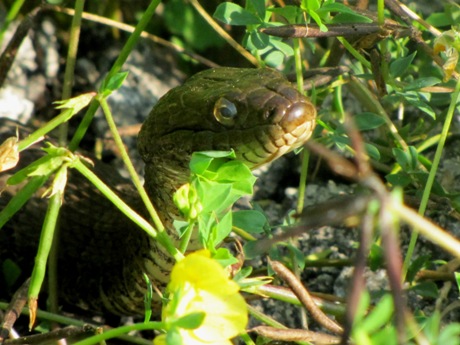 Though non-venomous, the northern water snake is a feisty sort, it will strike when cornered and bite repeatedly if handled. The bite of large water snake can be painful and its saliva contains an anticoagulant which will cause the bite to bleed profusely. In the South they are often mistaken for copperheads and water moccassins and as a result are sometimes killed on sight.  
September 1, 2014 - 2:36pm
#5
Bad dreams, Jeff???..........I can relate. Reminds me of the day my son-in-law plucked a snake off the surface of the Tonawanda and, in the same motion, pitched it forward and it landed in the canoe - but only after it hit me in the shoulder and slid down my back!!!!!
p.s. thanks for the comment and many interesting adventures!