January 23, 2013 - 2:59pm
Sponsored Post: Grease Lightning - $24.95 Oil Change!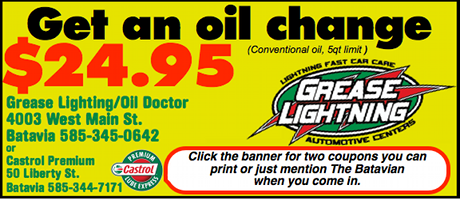 Grease Lightning at 4003 West Main Street Road in Batavia and its sister location, Castrol Premium Lube at 50 Liberty St., have a great offer for not only you but for a friend or family member.
Come in for fast, friendly service with no hassles whether it's oil changes or full repair right now and get a conventional oil change for just $24.95 (5 qt. limit) when you either mention The Batavian or you can get 2 coupons for the offer by clicking the above banner and printing it from their Web site. Keep a coupon for yourself and give one to a friend.
Owner/Operator Scott Levensailor wants everyone in town to come by and know they'll be treated friendly, fairly and with no tricks.
Here's the link to the Web page with the coupons: https://www.mygreaselightning.com/article.cfm Page=Articles&ArticleNumber=15