June 19, 2017 - 11:45am
Batavia resident plans to ride bike across country raising money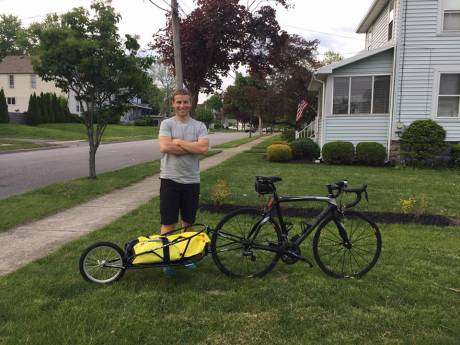 Doug Forsyth is counting down the days until he rides his bike across the country to raise money for cystic fibrosis.
On July 9, Forsyth, a Le Roy native, will be flying to Portland, Ore., where he will begin his 30-day journey, eventually ending up in New York City.
Although it was part of Forsyth's bucket list to ride his bike across the country, he was inspired to take the journey and raise money by his best friend's child, who is living with cystic fibrosis.
"It's a terrible disease," Forsyth said. "Kids are just born with it and there's nothing you can do."
Forsyth said he found a foundation, Claire's Place Foundation Inc., that gives money directly to the families who have kids that have been in the hospital for more than two weeks.
"I heard from them and the money that I've raised already has been given to a family in Minnesota," Forsyth said.
He has raised almost $4,000 so far through his GoFundMe page and donations made directly to the foundation.
His cycling mentor, Douglas Sawyer, from Ossining, will be riding with Forsyth. Sawyer will be raising money for traumatic brain injuries.
It will be an unsupported ride, meaning he will be towing a bike trailer filled with camping supplies. Forsyth plans on camping two-thirds of the time and getting hotels the rest of the way to wash up.
"I'm very excited about it," Forsyth said. "I just hope I can have the stamina to do it."
Updates about his journey will be posted on his Facebook page and donations can be made here.