September 29, 2013 - 9:43am
McCulley throws for five TDs, ND crushes Elba/Byron-Bergen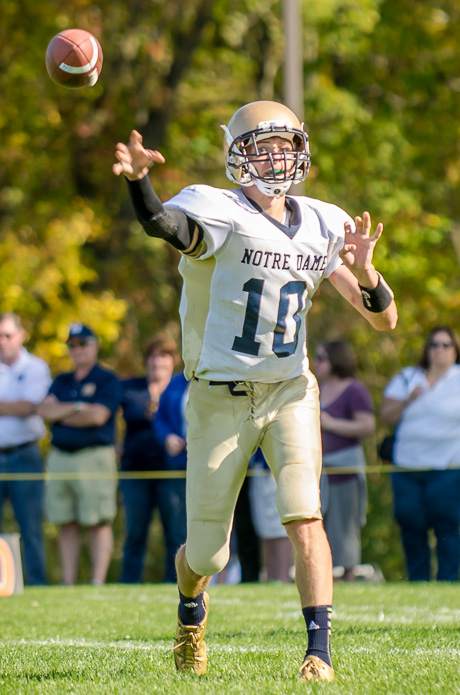 Notre Dame ended its three-game losing streak to Elba/Byron-Bergen with a dominating 40 to 7 victory.
For the second consecutive week, Tim McCulley scored five touchdowns for the Fighting Irish, this time all through the air as Notre Dame controlled the game from start to finish.
The Irish opened the scoring as McCulley hooked up with Josh Johnson for a 13-yard TD strike in the first quarter to go up 6-0.
McCulley would later find Jason Hart on a one-yard toss to give the Irish a 13-0 lead. In total, McCulley would throw four touchdown passes in the first half, two more to Johnson on plays of two and 51 yards respectively.
The senior quarterback went 18-for-27 passing for 335 yards and also picked up another 61 on the ground.
The Lancers would get on the board just before the end of the half on a three-yard pass from Garrett Chapell to Chad Kowalik.
Charlie Herbert was on the receiving end of the fifth and final touchdown pass from McCulley late in the third quarter. Herbert racked up 134 yards on six grabs, while Johnson had 161 on seven catches.
The Fighting Irish defense was stout all game, holding Chapell to just 13-of-33 passing for 127 yards and intercepting him four times, once by Johnson.
"Our skilled guys had a good game today, although we did have a couple of lapses," said Notre Dame Head Coach Rick Mancuso. "I'm really proud of the overall effort, of the great effort that got us to this point, but we have a lot to work on and we are going to get back at it on Monday."
Brandon Naylor had a strong game for Elba/Byron-Bergen (2-2), carrying the ball 16 times for 100 yards. The Lancers will next travel to Oakfield-Alabama next Friday night.
Notre Dame (4-0) is the only remaining unbeaten team in the Genesee Region League, and they will take on Pembroke next Saturday.
Also Saturday, Batavia lost to Canandaigua Academy 49-12.
Photos by Howard Owens.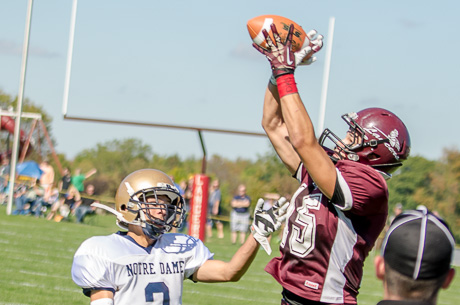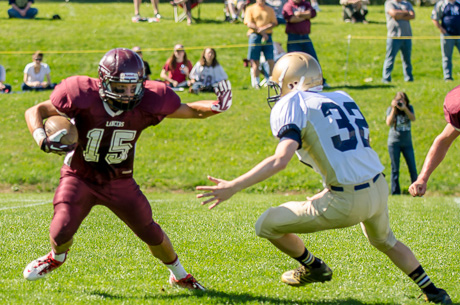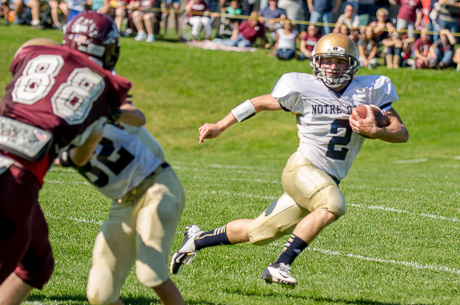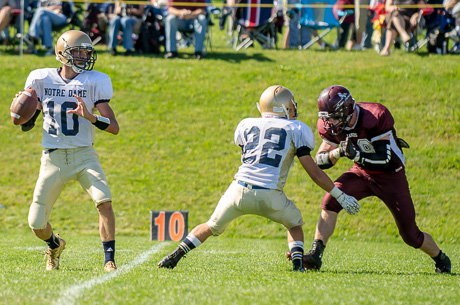 To purchase prints of photos, click here.
September 30, 2013 - 12:43pm
#1