January 20, 2014 - 9:28am
Local rugby club celebrates 40th anniversary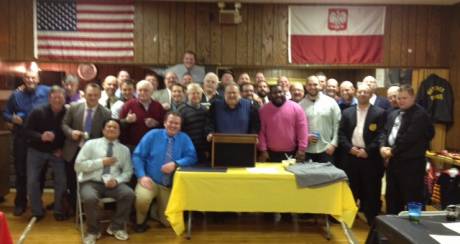 The Genesee Creamers Rugby Football Club celebrated its 40th anniversary over the weekend with a banquet attended by about 70 players and guests.
The club was founded in Batavia in 1970 and plays teams from all over WNY and Canada as well as the rest of the U.S.
Honored at the event were two 40-year members, Dominic Lovria, and 'Tin Cup' Teddy Anderson.
The dinner was attended by members of U.S. Rugby, including CEO Mark Griffin, who was the guest speaker.
Attendees also donated 40 jars of peanut butter and jelly to the Salvation Army.
Photo submitted by Mark Kielbasa.