September 24, 2017 - 1:06pm
Patrick A. Palotti
posted by
LaVern Falcone
.
Batavia ~ World War II Veteran, Patrick Palotti, died peacefully at the NYS Veteran's Home in Batavia, on Sept. 11, 2017, where he had been a resident since early August. He was 98 and lived his life fully and independently.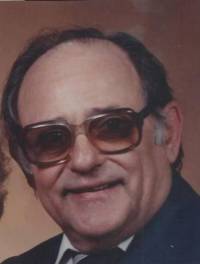 Born in Buffalo, Dec. 5, 1918 to Raphael and Delia Tarza Palotti,  he grew up in Holley and later attended Alfred State. He married Dorthea (Lauber) on July 4, 1940 and spent 62 wonderful years together.
     Pat is lovingly remembered for his stories, love of family and friends, remodeling skills, gardening, and his zest for life. He owned and ran Pat's Bootery in LeRoy for 34 years. Not ready for retirement,  he later worked at Genesee Country Village and Darien Amusement Park into his 80's with wife Dot by his side.
     He was a member of St. Peter's Church, Rotary Club, Head of the Babe Ruth League and LeRoy and Genesee County Chambers of Commerce.
     Pat is predeceased by wife Dot, son Gary, parents, and siblings, Sally Platt and Florence McMahon.
     He is sorely missed by daughter, Kathleen (Ken) Henry of Batavia; daughter-in-law, Karen (late Gary) Palotti of Simsbury, CT and son, David (Marilynn) Palotti of East Bethany; eleven gratefull grandchildren remain; Mike (Kristy) Palotti, Kevin (Karly) Palotti, Jeremy (Kristin) Palotti, Adam (Sonja) Palotti, Matthew (Rhean) Palotti, Josh (Mandy) Palotti, Ken (Julie) Henry, Brian (Amy) Henry, Jennifer Gadd, Emily (Frank) Falleti and Megan (Alex) Lega and the joys of his life, 23 great-grandchildren; Hayleigh, Andy, Nate, Luca, Rose, Henry, Carter, Felix, Holden, Nathan, Noah, Grant, Liberty, McKenzie, Tyler, Dylan, Austin, Gino, Francesco, Mirabella, Arianna, James and Dale.
     Family and friends may call on Wednesday, Sept. 27 from 4 ~ 6 PM at the Falcone Family Funeral & Cremation Service Inc., 8700 Lake Road (Rt. 19), LeRoy.  Graveside Services with military honors will be held on Thursday, Sept. 28 at 10:00 AM in the Stafford Rural Cemetery.
     In lieu of flowers, memorials may be made to the NYS Veterans Home at Batavia.
     Your memories and condolences may be shared with Mr. Palotti's family at www.falconefuneralhome.com.