April 19, 2014 - 6:53am
Closing reception for local artist Jolene Beckman's 'Within the Wallpaper' at The Gallery at Blue Pearl Yoga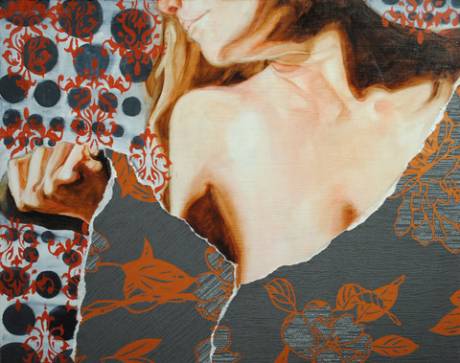 Local artist Jolene Beckkman is closing her current exhibit, "Within the Wallpaper," at The Gallery at Blue Pearl Yoga with a reception on Thursday, April 24 from 6 - 8 p.m. About a dozen pieces depict the struggle between what we expose and what we choose to keep hidden.
Born in Batavia but moved to Colorado before settling in Albion, Beckman attended local schools. She graduated from The College at Brockport with a degree in Fine Arts and gained an MFA from the University at Buffalo. She currently lives in Batavia with her husband and children.
Beckman has shown her extensive body of work locally in Batavia, Rochester, Buffalo, Canandaigua, Brockport, Binghamton, and Lockport as well as nationally in galleries in Chicago, Seattle, and New York City. With her current exhibit, Beckman says, she is, "questioning what it means to put a body on display, and what it means to be looked at — from the perspective of both the viewer and the viewed."
Each complete painting is partially covered in wallpaper -- some of it purposely ripped -- "to convey the idea that sometimes what is concealed is often just as important as what is revealed."
Much of Beckman's work is steeped in realism and indeed, she draws inspiration from the detailed realism of the Old Masters. She also cites German Expressionist Kathe Kollwitz -- who produced a series of works reflecting her concern with war, poverty, and the lives of ordinary women in the 1920s -- as inspiring for their eloquent yet searing account of the human condition. 
"Her facial expressions are beautifully rendered," Beckman says. "My own interpretation of such stark emotion is to paint my figures as if they are walking out of the painting and into a dream."
Within the Wallpaper is on display until Thursday, April 24. The closing reception is scheduled from 6 - 8 p.m.; it is free and open to the public. Refreshments will be served. For additional information contact Blue Pearl Yoga at 585.230.5430 or the artist at [email protected].