October 9, 2011 - 10:29pm
Lady Cougars have Strong Showing at Hagerstown Tournament
The Genesee Community College Women's Volleyball team went 3-1 at the Hagerstown Community College volleyball tournament this weekend, losing only in their final match of the tournament to Rockville 22-25, 25-22, 21-25, 20-25.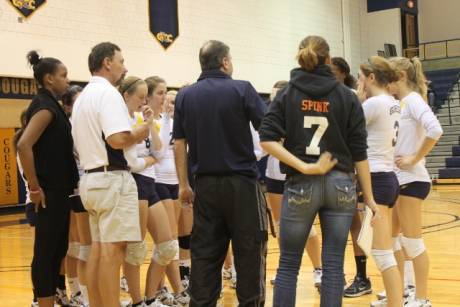 Paige Tilert was named the tournament MVP. She ended the tournament with 84 digs, 17 aces and 9 kills. Named to the all-tournament team were Carrie Blunt and Sabrina Wilhoite. Blunt finished the weekend with 32 kills, 15 digs and 2 blocks. Wilhoite tallied 49 aces, 19 digs and 6 aces.

Maria Antsupova had a strong tournament with 105 digs, 17 aces and 16 kills. Kristie Barger added 95 digs, 16 aces, 3 blocks and 10 kills. Karin Davis lead the team with 62 assists and added 11 aces. Olivia Engel contributed 20 kills and 9 blocks, and Deliane Lessard had 59 digs, 32 kills, 15 blocks and 10 aces.

The Lady Cougars will host Niagara County Community College for their next match on Tuesday, October 18th at home at 6pm.