March 17, 2017 - 5:22pm
Coach dedicated to the youth of Batavia passes at age 54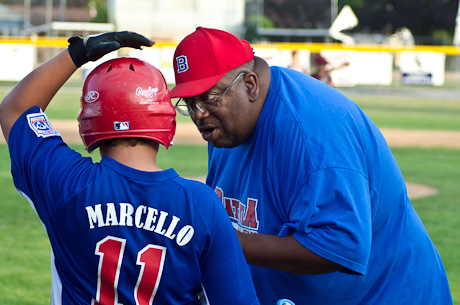 James "Beef" Soggs, who coached youth sports pretty much year around -- football, basketball, baseball -- for two decades passed away yesterday at age 54.
He will be missed.
"He was always upbeat and very positive," said Buddy Brasky, who coached with him and against him in baseball, and worked with him as one of the coaches in his youth basketball program. "He never looked at anything in a negative way, which is why the kids loved him. He had a special way of making the kids feel good about themselves. He made them feel like a million dollars. Kids loved playing for him."
Dave Hall, who coached Little League with Soggs for 18 years, said he's never known a coach more dedicated to the kids. He said they talked daily, sometimes three or four times a day, about baseball or particular young athletes. Soggs always had the best interest of the kids at heart.
He got down to their level and communicated with them in a way they got, Hall said.
"He just had a way with the kids," Hall said. "He knew what to say. He knew when to put his foot down. He knew when to put an arm around a kid and give him a hug and show them a little love.
To meet Beef was to make a new friend. He always had a smile and a positive word.
"He was just a good-hearted guy," Brasky said. "You won't find anybody who has a bad thing to say about him. He just made you feel good when you were around him."
Rick Mancuso said the thing he admired about Soggs was he was into youth sports for all the right reasons.
"Beef was in it for the kids and you can't always say that about every coach these days," Mancuso said. "He always did the right things in the right way."
He said Soggs contributions to the community went beyond sports and went beyond Batavia.
"He did a lot for the community and for a lot of different people and the kids are better for it," he said.
Hall said he will miss his good friend. He already does. But he also said the community will miss him.  
Soggs, he said, had plans to coach in the minors this year so he could coach his grandson.
"He was looking forward to that," Hall said. "That's the sad part. He will miss that opportunity."
March 17, 2017 - 8:10pm
#1
Absolutely the community is going to miss him...everybody loved this guy. He had a huge heart and a huge laugh to go with it. I'm going to miss beef.This is so sad. A lot of kids and parents are saddened today, not to mention his family, Prayers for his family to get through this.
March 17, 2017 - 9:32pm
#2
March 20, 2017 - 7:33am
#3
So sorry to hear. I only knew him in passing, but he seemed like a stand up guy. He was very kind to my son on a couple different occasions.
My thoughts and prayers go out to his family and friends.