August 19, 2017 - 7:51pm
Two members of local law enforcement with more than 36 years of service each retire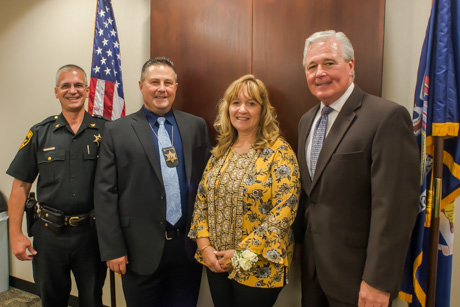 Two of the Sheriff's Office longest-serving members retired yesterday, John Dehm and Barb Eddy (pictured with Undersheriff Greg Walker and Sheriff Bill Sheron).
Dehm started with the Sheriff's Office in June 1980. By then, he'd earned a degree from Buffalo State in Criminal Justice and scored second on the deputy's exam. After a short stint at Genesee Community College as a security guard, then-Sheriff Roy Wullich called him for a job, assigning him, as was the case with all new deputies who hadn't yet been through the academy, to guard duty in the jail.
He worked road patrol until 1993 when he became the agency's youth officer, a job he described as both richly rewarding and stressful.
"I might still be part of interacting with the Child Advocacy Center to see that that's carried out and that the cases of child sexual abuse are handled in the correct way," Dehm said. "I really believe it takes special training in order to investigate those types of offenses. A lot of compassion and we have a team, not only just one person, we have a whole team of experts who collaborate together to make sure the best outcome prevails."
In 1989, Dehm was trained in forensic interviews, a skill that was a major part of his job as a youth officer.
"One of my passions is getting sex offenders," Dehm said.
When Dehm started as a youth officer, the DARE (Drug Abuse Resistance Education) program was still active and that was a big part of his job in the beginning, but becoming certified as a DARE officer wasn't easy. He had to travel to Albany, be interviewed by multiple people to ensure he was the right caliber for the job and pass a test.
"I actually see many of my students who are probably now  36 or 37 years old and they still say 'Hi' to me," Dehm said, "to this day. It was a wonderful experience working directly with the kids."
In retirement, he's still going to be working with kids. This fall, he starts a job as a security aide at John Kennedy School.
"I think with all the skills I have as a youth officer, I think I'm going to be able to use those skills and my talents as a youth officer to the advantage of the kids in that school," Dehm said.
While Dehm, a father of three adult children and stepfather to an 18-year-old daughter, anticipates having more time to do things around the house and spend more time with his wife, he isn't giving up on his other passion -- scuba diving.
For years, he and his partners (other men in law enforcement) have run a scuba business. It's something he still enjoys and thinks he's good at, he said.
"I've been scuba diving for 40 years," Dehm said. "I've been doing a dive business fo over 20. We do underwater video photography. I think my skills are pretty sharp underwater. We can tell how different things work for different municipalities and assisting in whatever underwater things that they need. And any infrastructure that needs to be inspected."
Dehm, a 1975 graduate of Notre Dame High School, said he also looks forward to spending more time outdoors -- hiking, biking, camping, and he would really like to delve more into photography. (He's been documenting various Sheriff's Office events for a few years.)
Barb Eddy's law enforcement career actually started with the FBI in its Buffalo office; but having been raised in Bethany and attending Alexander schools, she missed Genesee County.
"Obviously, the FBI was a great job but my my heart wasn't in the City of Buffalo," Eddy said. "My brother (a deputy sheriff) said a typist job was open at the Sheriff's Office and he said, 'You should apply.' "
So she did. She was actually the first person interviewed for a job by the new sheriff, Doug Call.
"He kind of laughed because he said 'you've got an FBI background already so we don't have to do a background check,' " she recalled.
Eddy was hired as a typist in 1981 and soon promoted to clerk typist. 
Through the '80s, Eddy was very involved in her community, including the Alexander Volunteer Fire Department; so in 1990, making the move to dispatch seemed like a good fit for her.
"I've always enjoyed the fire service and what they do and that's where my heart was and I decided that's where I needed to be," Eddy said.
It's been a very rewarding job, she said.
"The main thing that I like about dispatch is that every day I come here into the office, I know I'm going to help someone," Eddy said. "You know it's not always the tragedies, the horrible things of having a baby not breathing on the other end, or a person screaming that their child isn't breathing, or their loved one isn't breathing.
"Those are the things I'm going to choose to kind of block out of my memory. It's the simple things, just knowing that I'm helping someone, even if it's finding a phone number or an address or whatever. It's just knowing that every day I walk in here I'm helping someone in the community that needs help."
Eddy also thinks she's leaving the 9-1-1 Center in capable hands.
"There's a younger group coming up through the ranks and they're doing a great job," Eddy sadi. "They're trained very well. The Sheriff makes sure that they are trained. They're doing a very good job."
She's retiring after 36 years and her husband retired two years ago as a State Police dispatcher. They're looking forward to time for family and travel and returning to some of the community involvement she's had to set aside for a few years. 
"Since I took my promotion as a senior dispatcher, I've been working the three-to-seven shift so I've lost track of some things that I really enjoy with my community," Eddy said. "I've been involved in the Alexander Fire Department and I'm also with the Boy Scouts. I got involved with the Boy Scouts because my son is an Eagle and I am lucky enough to be able to continue with that and be the liaison with the Fire Department, which sponsors the scouts."
And then there is the chance to get back involved with music.
"I did play an instrument when I was in high school and I haven't touched it since," Eddy said. "I thought about that maybe some singing or some music, some things that I haven't done in quite a long time and I might actually have time for now."
She is going to miss working at the Sheriff's Office though. It's like family, she said.
"After all, sometimes you spend more time here than with your own family," Eddy said. "I just love the people I work with and I'm going to miss them. But I might become the coffee guy now, you know. I can be the girl who calls up and says, 'You've been here 12 hours -- you need a cup of coffee?' "
August 19, 2017 - 8:19pm
#1
Congratulations to you both....you've done a great job and will be missed. Enjoy a well deserved retirement.