September 7, 2012 - 4:02pm
Chris Collins tours Chapin plant in Batavia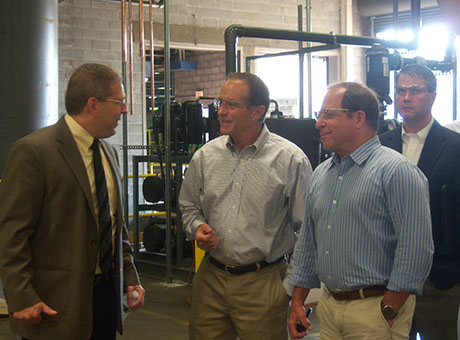 Press release:
Congressional candidate and small business owner Chris Collins today joined Assemblyman Steve Hawley to tour Chapin Manufacturing in Batavia to discuss the importance of manufacturing jobs and the issues facing small businesses.
"Manufacturing is a key component of the American economy. Companies like Chapin provide good paying jobs to hundreds of employees and strongly support their local communities," Collins said. "We need Washington to create an environment for these businesses to succeed.
"The Obama-Hochul policies are not working. Today's jobs report shows we lost 15,000 manufacturing jobs in August and unemployment remains above 8 percent for the 43rd straight month. This is unacceptable."
"Washington just does not understand that you cannot tax and regulate a business to success. We need people in Congress who know what it is like to make payroll and face the challenges imposed by Washington every day. I've spent my career creating American jobs and will bring that experience with me to Congress," Collins continued.
Chris Collins continues to tour businesses throughout the 27th Congressional District, hearing concerns from small business men and women.
Photo provided by the Chris Collins campaign.
September 9, 2012 - 11:56pm
#1
I would strongly admonish Assemblyman Hawley to be very careful in whom he chooses to embrace and endorse. Just being Republican is not good enough.
Republican candidate Chris Collins is NO FRIEND of gun owners, nor their 2nd Amendment Rights!
He has done a big flip-flop and espouses his support for gun owners and NRA membership, but he is a two-faced, forked-tongue, double-speak, RINO, anti-gun candidate, make no mistake about it.
In fact Chris Collins is a "conservative fraud"... he is the founding member of County Executives Against Guns (CEAG). That alone makes him unworthy of any conservative, Liberty minded voters support.
_____________________________________
"Collins was once in league with gun grabbing New York City Mayor Michael Bloomberg."
"Bloomberg's Mayors Against Illegal Guns (MAG) was founded in April 2006 and immediately published a Web site clearly stating its anti-Constitution rhetoric. The group commenced a campaign to convince others that firearms are inherently 'Illegal' when they are not and pretends the Second Amendment does not say what it says. MAG misses the Framers' point entirely when they claim gun control laws and gun bans keep communities safe."
"In fact, MAG flat out subverts the Framers' intent by working behind the scenes to have legal firearms declared illegal to then pursue their real goal: take away our guns."
"After Collins formation of CEAG two years later in April 2008, Bloomberg issued a press release promising to "work closely" with CEAG"
"The original press release for the MAG listed then-Erie County Executive Collins as a founding member."
http://www.humanevents.com/2012/05/22/combat-hero-takes-on-democratic-re...
_____________________________________
I attended the last SCOPE Genesee meeting at which Congresswomen Hochul was the keynote speaker. Just by happenstance(?) State Senator Ranzenhofer and Assemblyman Hawley stopped by and were allowed to address the audience also [interestingly Chris Collins was invited but did not even respond]. All 3 spoke strongly in support of gun owner rights and the 2nd Amendment... but, if you research it, Representative Hochul's past record on gun owner rights and the 2nd Amendment is "exceptional", and hands-down FAR BETTER than Chris Collins.
So why is Assemblyman Hawley courting Collins? Is it "talk the talk, but don't walk the walk"?? Or is it, just party politics as usual???
September 10, 2012 - 9:36am
#2
Well this comment seems completely out of place since the subject of the article was a plant tour.