January 11, 2013 - 1:22pm
Duffy reiterates governor's agenda for 2013 in speech at GCC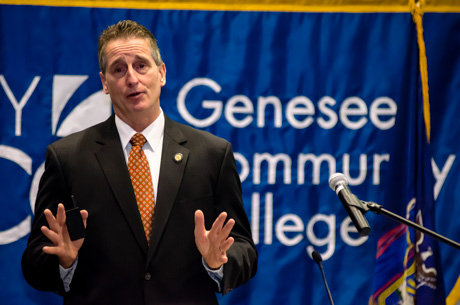 Lt. Gov. Robert Duffy was in Batavia today and spoke at Genesee Community College providing a recap Gov. Andrew Cuomo's State of the State address.
Duffy covered all the major points of the speech, from economic development, education reform (including longer school days and creating a "master teacher program," reducing gun violence and protecting the rights of women.
"It is about making New York State the best we can make it," Duffy said. "This is year three for the governor. He could have rested on his laurels. He has some of the highest support numbers of anybody around. He's taken on things, some things may be controversial. He's taken on things he believes are right for the state. It really is about economy, education and really looking at things that make our state stronger."
Absent from both the governor's speech Tuesday and Duffy's remarks today was any talk of mandate relief for local government.
Asked about it after remarks, Duffy said the failure to mention it doesn't mean the governor's office isn't working on the issue.
"There's been a lot of work on the underpinnings of mandate relief," Duffy said. "I personally went to a lot of the mandate relief council meetings and listened firsthand. There's work being done. There are not any big announcements to be made right now but there are a number of things happening."
After his appearance at GCC, Duffy went to Larry's Steak House for lunch.