March 6, 2013 - 6:55am
GCC forward named Player of the Year for division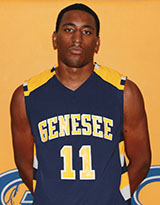 Press release:
Genesee Community College freshman forward Vaughn Boler (Pittsford Mendon High School, Rochester) has been named the NJCAA Division II Region III Player of the Year for the 2012-2013 season.
Boler played in 27 games (26 starts) this year and led the Cougars in scoring, averaging 21.1 points per game. That mark was the second-highest scoring average in Region III and 14th most in the country. He also averaged seven rebounds per game, which was second highest on the team.
On three occasions this season, Boler scored 30 or more points in a game. He scored a career-high 37 points against ASA College on Dec. 9 and recorded 12 or more points in every game.
Boler missed four games during the middle of January due to an injury and the Cougars were 0-4 during that stretch. Genesee finished the regular season with a 15-15 overall record and fell to Mercyhurst North East in the opening round of the Region III playoffs, 97-94.
Boler is the first player at Genesee to receive the award since Leon Nelson, who was named co-Player of the Year in 2010.
Genesee Community College athletics program endeavors to provide a quality and competitive intercollegiate athletics program consistent with the National Junior Collegiate Athletics Association (NJCAA) philosophy and the overall educational mission of Genesee Community College. Participation in collegiate athletics should be an extension of the total educational experience for the student athlete. The inherent philosophy emphasizes the athletic setting as a classroom used to teach character, commitment, work ethic, respect for differences, and the importance of sacrifice, teamwork and cooperation.