May 9, 2014 - 8:02pm
GCC photography students display environmental portraits at Interpretive Center in Bethany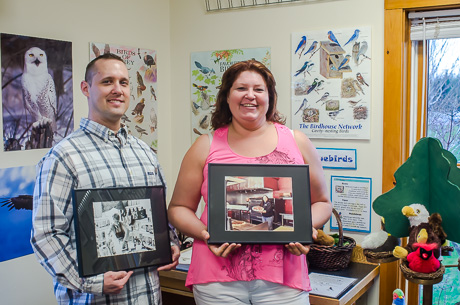 Photography students at Genesee Community College have created a series of photographs called "environmental portraits." The photos are currently on display at Genesee County Park and Forest Interpretive Center in Bethany. Above, students Jason Dieter and Lynn Homer hold examples of their work during a reception held this evening.
The students were assigned to photograph a subject in an environment that helped illuminate that subject's life and surroundings.
"Creating a portrait of a subject in its natural surroundings adds elements to their character, and therefore portrays the essence of their personality, rather than merely a likeness of their physical features," said instructor Joe Ziolkowski. 
The works will be on display through August.