July 23, 2014 - 10:38am
The potential for arrest has dramatically reduced fighting at BHS, school officials say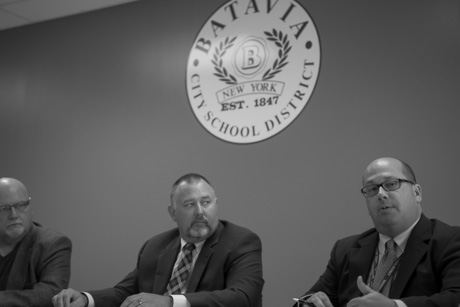 The message seems to be getting through.
Batavia school officials were alarmed at the number of fights at the high school in 2012-13, so after some consideration, they decided to do what people do to curb criminal activity: call the police.
It was a big policy swing away from the traditional approach of schools, which is to handle problems on campus through internal processes such as counseling and suspensions. 
The new policy means students who fight could be arrested, put through the criminal or family court system and potentially see their names in police blotters (last year, The Batavian redacted the names of under-18-year-old students arrested on campus from arrest reports).
The change in policy had an immediate impact.
In 2012-13, 19 fights at BHS. In 2013-14, three.
"The resources we had available weren't changing views, and we needed to do something in order to change the behavior of kids choosing to fight while at school," said Superintendent Chris Daily during a press conference Tuesday. "We took it to the next level and it's worked."
Daily knew the new policy was having an impact when he was walking through a corridor at BHS and overheard a young lady and young man talking.
"He was obviously a little agitated," Daily said. "I heard her say directly, 'if you get in a fight, they're going to arrest you and then you're not going to be around this weekend and then we are done.' "
The other component of the new program is intervention. It takes some effort by teachers and counselors to become aware of potential issues between students, some reliance on students expressing concern about potential problems (more likely with the elevated consequences), but school officials work at the effort because they would like to mediate conflicts before fights erupt. 
"Peer pressure gets a negative rep, but there is positive peer pressure and the kids, they want to take care of each other," said BHS Principal Scott Wilson. "They are now reaching out to the adults in the building and looking for other ways of resolving conflicts."
In the case of Daily's overheard conversation, a counselor got involved and mediated the dispute. It didn't necessarily make the two potential combatants friends, but it did lessen the tension.
"It's been the hardest part of the rollout," Wilson said. "We've had countless remediations to resolve conflicts. Sometimes students agree to disagree, but they do not engage."
Officials hope students learn through the program that there are better ways to solve problems than fighting.
"The kids are learning, 'I can't handle myself this way,' " Daily said.
A pair of police cruisers showing up at the front entrance of the school as the result of fight gets the students' attention. After the first fight last year, Wilson said, the chatter among students wasn't the usual recap of the altercation; rather, students were talking about the arrests.
"The kids who have been through consequences, either through youth court or criminal court, have been our best advertisements to stop this behavior," Daily said.
The old policy kept students in a bubble, isolated from societal consequences of criminal behavior, and helping students learn that whether on campus or off, they are part of a larger community is one positive of the program, said Police Chief Shawn Heubusch.
"(When a student) leaves the school, he shouldn't have to abide by a different set of standards than he does while he's in the school," Heubusch said. "By applying that consistency and that constant communication, you should see that student carry that over into his personal life and into his community."
The words consistency and communication came up a lot during the press conference.
It was communicated clearly to students at the start of the school year that there would be criminal consequences to fighting, and school officials communicated with parents, particularly parents with children involved in conflicts.
There's also an outreach component to the effort. Heubusch doesn't want students to just see his officers as the long arm of the law. He wants them to understand they're available to help.
Det. Richard Schauf has been a regular presence on campus in the mornings, in uniform, greeting students along side Daily and Wilson.
At first, Schauf said, students were wary (quite a contrast to the warm welcome from elementary school students when Schauf goes to Jackson School), but over the course of the year, many students became cordial and talkative.
Greater police involvement on campus, Schauf said, helps create a better learning environment.
"I don't care what age you are, if you don't feel safe, you're not going to learn," Schauf said. "You're not going to learn because you're going to be more concerned about protecting yourself, and we want students to learn."
The motto at the school is "Take Care of BHS" and the program reinforces that motto, Wilson said.
"It helps us deliver that message and building that culture of 'Take Care of BHS', that fighting is something we don't do in this building," he said.
Daily, a former BHS principal himself, said he has seen the new policy have a real positive impact on school culture.
"By using this, it's really helped our school community heal something that was very disruptive," Daily said. "We're hoping going forward, that message continues, and that message gets out and we're going to eliminate this kind of behavior from school. Kids are going to make mistakes and we're going to be there to help them learn, but we just took another resource and used it to help us get a better result."
Photo: Board Member Pat Burk, Wilson and Daily.
July 24, 2014 - 12:00am
#1
These incidents should have been reported to police all along. The idea that crimes committed on school property are a disciplinary problem, not a criminal problem, was junk from it's inception.
July 24, 2014 - 8:28am
#2
Don,
That's the status quo of every school district in NYS to NOT involve law enforcement as the result would be BSD being placed on the bad school list in Albany, and having to answer to a state inspector regularly.