October 15, 2013 - 12:20pm
Prehistoric artifacts found at site of planned emergency communications tower in Darien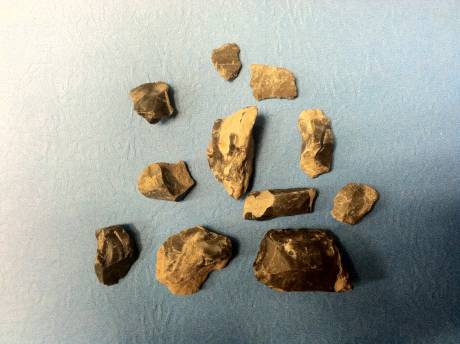 To the untrained eye, the 11 objects found in Darien last week look just like a handful of rocks, but archeologists have determined they are prehistoric artifacts. They're also a wrinkle in the county's plan to build a 21st Century emergency communications system.
The artifacts were found at the site of a planned communications tower near the Darien Fire Hall.
The county's contractor hired an Atlanta-based archeological firm to do a test dig on the site, which uncovered the artifacts.
The artifacts have not been dated nor their origin determined. They're just obviously very, very old.
Contrary to rumor, Undersheriff William Sheron said, the site is not an "Indian burial ground."
A report has been sent to the state's Office of Archeology and the county expects to receive instructions on what to do next.
Sheron noted that when Tops built a new distribution center off Genesee Street, an Indian burial ground was found and the project was delayed six months so the remains and artifacts could be properly secured.
In other words, Sheron said, the artifacts found in Darien do not necessarily mean the site can't be used for a communications tower.
The county is building three new towers as part of the $10.8 million communications upgrade project. While the county must complete phase one of the project -- under a federal mandate -- by February, the towers are all planned for phase two of the project, which isn't scheduled for completion until next summer. 
While the Sheriff's Office would like to stay on schedule, Sheron said officials recognize the find in Darien could delay construction of that tower.
"We hope it doesn't get delayed, but if there are issues that need to be addressed, we'll address them and meet whatever requirements we need to meet," Sheron said. "If it becomes cost prohibitive, we'll look for another site."
Previously: