December 5, 2013 - 6:26pm
Two Christmastime photos of old Downtown Batavia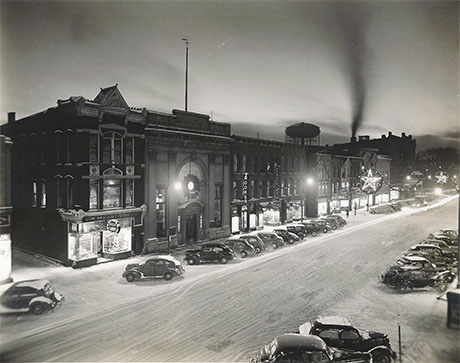 This is a copy of a photo, like the one below, that I acquired last night at auction through Bontrager's.
It was shot Dec. 4, 1940.
The photographer was William Seaver. He resided for a time at 21 Ellicott Ave., Batavia. His office was at 90 Main St., Batavia.
We can assume, I think, that this picture was taken from his office window. The exquisite sharpness and detail of the photo suggests he was using a quality, large format camera (the single sheet of film was likely 8x10, much larger than 35mm film). 
The block you see is the south side of Main Street from Court Street (where the Hotel Richmond stood) to perhaps Jackson Street or just west of Jackson Street.
Seaver's office would have been approximately where Hillside Children's Center is now, on the west end of the mall.
Comparing it to the photo below, Seaver used a wider angle lens for the 1940 shot than he did for the 1927 shot. In 1927, he used some sort of telephoto lens. I don't know 8x10 format lenses all that well. It appears he used a wider angle lens in 1940 than he did in 1927 based on the crop and compression of space.
When I stopped by the County History office today, Larry Barnes, the city's historian was there. He had seen the 1927 shot before. It's in his book "Batavia Revisited." He had never seen the 1940 shot before.
I'm not sure if there are any descendants of William Seaver still in Batavia, but it would be something if his negatives still existed. These are high-quality photographs and it would be a shame if his negatives (and who knows what else he shot) were lost.
This geneology page says "William Seaver registered for the World War I draft on 12 September 1918 in Batavia, Genesee County, New York. He was age 45, born 18 May 1873. 
In 1910, he lived at 35 Center St., Batavia. In 1920, he lived at 21 Ellicott Ave., Batavia, and 1930, he was a lodger residing at 102 West Main St. In each census he was single, even at age 56, so perhaps he has no descendants.
There was also a William Seaver who lived in Batavia before the photographer. He was the first captain of the first fire department and a president of the Village of Batavia in 1838. That Seaver appears to have published a book in 1849 called "A Historical Sketch of the Village of Batavia."
The older William Seaver, judging by the genealogy site, was the uncle of the photographer William Seaver. The photographer's father was David Seaver, the son of a William Seaver born in 1789 in Peru, Mass., and died in Batavia in 1871.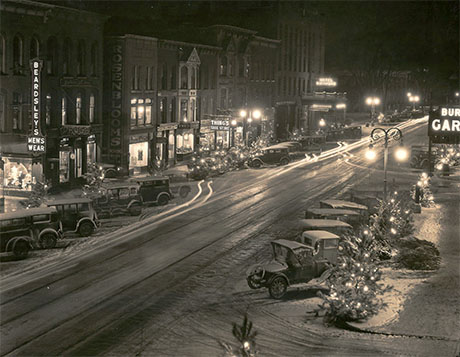 To aid in seeing the pictures at a higher resolution, I've put them into a slideshow below. I recommend viewing them in full-screen mode.
December 5, 2013 - 6:50pm
#2
I could keep looking at these with all of the details in them. I love old time photos of Batavia and these are beautiful!