September 19, 2008 - 12:00pm
About The Batavian
posted by
Howard B. Owens
.
The Batavian was officially launched May 1, 2008.  It is the first local, online-only news source for Batavia and Genesee County.  The Batavian now stands as Genesee County's most popular online news site.
The purpose of the site is to provide local residents with timely news and information mostly about Genesee County. It is also our mission to ensure that every resident has a chance to contribute to the community by posting news and opinion about events, whether of local interest or national or international importance.
We believe that through civil discussion, communities grow stronger. We encourage all residents to participate, and only ask that each contributor treat others with respect.
The Batavian is not affiliated with any other local media. It is independently operated.
The Genesee County Chamber of Commerce selected The Batavian as the 2009 Innovative Enterprise of the Year.
Phone: (585) 250-4118
---
Publisher - Howard Owens
Howard Owens is originally from San Diego California, where he started his journalism career 20 years ago as co-publisher of a community weekly. He has been a daily newspaper reporter and editor. In 1995, he launched East County Online, a web site for six community weeklies in San Diego County. It was the first web site serving a group of weekly papers. He was director of new media for The Ventura County Star, which won the Online News Association's General Excellence Award in 2004. In 2005, he was VP of Interactive for the Bakersfield Californian.  Bakersfield.com won a General Excellence award from the Inland Press Association. From 2006 until 2009, he was director of digital publishing for GateHouse Media based in Fairport, N.Y.  He is a former member of the Newspaper Association of America's Digital Media Federation board and served on NAA's audience development committee. Howard's email address is "howard (at) thebatavian dot com"
---
Editor - Billie Owens
She started her professional journalism career in 1989 at The Daily Californian in El Cajon, Calif., where she won numerous regional awards for her writing and reporting. After three years at the Californian, Billie went on to a successful and award-winning three-year stint at the San Diego Business Journal. She's also held staff writing positions at the Ventura County Star and the Daily Messenger in Canandaigua. She holds a Bachelor's Degree in Journalism from San Diego State University.
---
Sales and Marketing Coordinator - Lisa Ace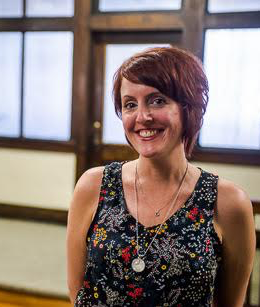 She's Lisa Ace, a resident of Batavia who has a wealth of experience in marketing and graphic design. Ace, originally from Utica, moved to Batavia years ago to attend GCC. She stayed after meeting her husband Chris, a native of Stafford. After they got married, they decided to stay in Genesee County. Ace has worked locally in marketing and graphics for different companies. She's also done free-lance work for a variety of clients. She has a Bachelor's degree in design from Buffalo State College. Her hobbies include making beaded jewelry, baking and her three cats.
---
Businesses interested in advertising should contact Lisa Ace, 585-250-4118.