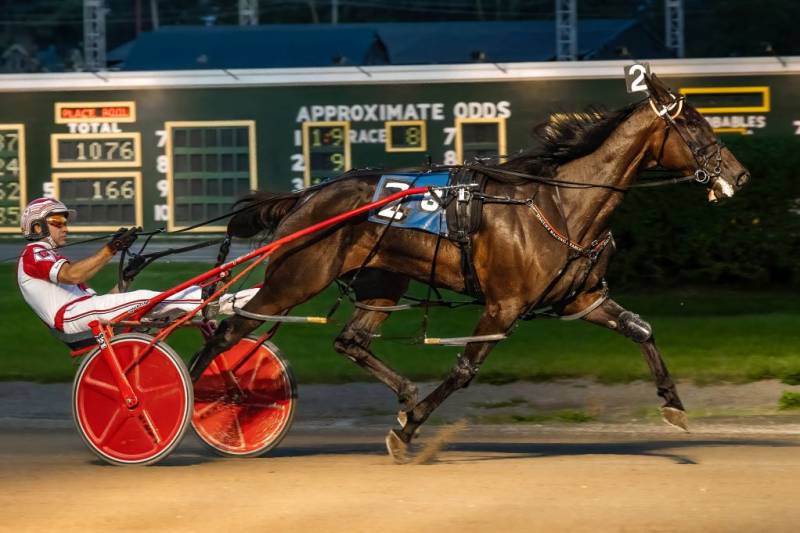 A loaded 15-race card has been drawn for Wednesday night at Batavia Downs and it features the $440,000 New York Sire Stake Excelsior finals. A total of 64 state-bred Standardbreds will start in eight $55,000 Excelsior divisions and combined with seven overnight events valued at $71,500, the total purses up for grabs that night total $511,500.
All of the 3-year-old events are full of very talented horses, many of which have competed on the New York Sire Stake circuit at some point over the summer. Most from this group have already raced at Batavia this year, but none put on a more memorable performance than the pacing filly Rec Time (Huntsville-Ms Malicious).
When trainer Deborah Daguet sent Rec Time behind the gate in a $57,000 NYSS leg at Batavia on August 16, she was overlooked by the betting public at 9-1. But she turned some heads when she moved from third in the stretch to win by 2-1/2 lengths in 1:52.3 and set a new Batavia track record for 3-year-old pacing fillies. It was her first NYSS start of the year after having won four Excelsior races with two seconds in six starts. She has not raced since that start, but Rec Time has been freshened up and qualified back in preparation for this event, going 1:55.2 at Mohegan Sun Pocono Downs.
Looking to set records of her own is Mark Ford's High Fashion Star (Huntsville-High Fashion Model) who is the highest money earner in the field with $102,964 deposited on the strength of her five wins and four seconds this year. Beside the Excelsior series, High Fashion Star has also competed in the Lynch Memorial at Pocono and Empire Breeders Classic at Tioga Downs. She too just qualified at The Meadowlands in a very impressive 1:53.4 going gate to wire.
The "Glamour Division" of second year male pacers is another evenly seeded field.
Storm The Court (Huntsville-Soft Wind Hanover) has bounced between the NYSS and Excelsior races all summer for trained Mark Silva, winning once at the top level and three times in the latter. He went gate to wire in his outing at Batavia on August 8 in an impressive 3-1/4 length, 1:54.1 victory and has since paced in 1:51.4 at Tioga, getting beat only a head after cutting the mile again. He is one to watch.
That Dog Will Hunt (Huntsville-Mikayla Rose) was the one who beat Storm The Court in 1:51.4 at Tioga after benefiting from a perfect trip. However he made a uncharacteristic break at Yonkers in his last start in an overnight race and was placed as a result. It would appear the break was an anomaly and that trainer Jennifer Bongiorno will have That Dog Will Hunt ready to be a major contender here.
Stephen Crevani's Bullville Stephano (Artiscape-Bullvillestephanie) already has a lifetime mark of 1:49 at Pocono earlier this year and just got beat a neck in 1:50.3 in an overnight there two weeks ago. He has two Excelsior wins this year including a 1:54.4 walk in the park at Batavia on August 8. There is no question that Bullville Stephano has the speed and versatility to win this race.
The 3-year-old trotting fillies are led by Woolco (Chapter Seven-Upside Hanover) who spent the better part of the summer competing in the NYSS where she won once and finished second as well and actually finished eighth in the points standings to qualify for the $225,000 NYSS finals that were held at Yonkers on Saturday (Sept. 9). However trainer Bob Krivelin opted to enter the Excelsior final instead as her three wins there saw her finish fifth in those standings.
Ron Burke had Destiny's Darling (Chapter Seven-Moonlight Cocktail) racing in NYSS events her last three starts where she finished second and third to that top division's leader, Royal Filly. However the bulk of her starts were in the Excelsior series over the summer and that's where she qualified for the final. She does appear to have a class advantage as a result of her recent outings.
Serendipity (Chapter Seven-Vida De Vie) is a George Ducharme trainee who is an eight-time winner this year that includes her last start at Batavia. Serendipity hasn't missed the board since June, hasn't missed a check all year and should be considered a serious contender.
Looking at the second year trotting males, David Dewhurst's City Of Hope (Met's Hall-Doin The City) is possibly the hardest working 3-year-old in to go as he already has 23 starts this year with a very impressive 11 wins as a result. After sweeping a three race series at Saratoga, City Of Hope went on to win three Excelsior legs and bankroll $110,294 so far this year. He has been known to make an occasional break, but when he's on his game, he is dangerous.
Looking at his rivals, trainer Ron Burke has Kennebago (E L Titan-First Class Act) coming into this final off two consecutive wins, both of which were on the front end. And Seven Over (Chapter Seven-Overpowering Lindy) is a four-time winner this year for trainer Per Engblom, the last of which was at Batavia. His 1:54 mark at Vernon is the fastest of this bunch and he did compete in the NYSS earlier this year.
Whereas the 2-year-old pacing division for both genders seems to be very evenly matched races that should provide excellent betting opportunities, the first-year trotters appear to have several horses who stand out in both races.
The 2-year-old filly trotters will have to contend with a strong entry from the Batavia-based stable of trainer Steve Pratt and the pair just happened to finish first and second for points and earnings in this division of the Excelsior series this year. Barn CJ (Crazy Wow-Fractured Dream) has won six of seven Excelsior starts with one second and earnings of $65,000. Barn Dreamer (Devious Man-HB All Our Dreams) has won four of six Excelsior starts with two seconds and earnings of $50,000. And both trotters won their last outing and that was at Batavia Downs.
The main competition and biggest challenge for the Pratt entry is Marcus Melander's Dozen (Chapter Seven-Sequin) who comes into this final on a four race win streak, all in Excelsior action that earned the filly $44,638. Her last win was at Vernon Downs where she took a lifetime mark of 1:55.4 and the one start she did not win was a third place finish in a NYSS start at Saratoga. It's also interesting to note that every time Dozen faced both Barn CJ and Barn Dreamer, she won.
The 2-year-old male trotters should put on quite a show with four horses peeking at the right time.
John Stark Jr.'s Tobern (Crazy Wow-Bertaux) won five in a row over the summer, including one NYSS start and an 18-length romp at Batavia on August 4. He's the top money earner in this field with $98,650 and has been the picture of consistency all year, never missing the board in seven outings.
Dan Daley's Fringed (Crazy Wow-Jinx Muscles) suffered through breaks and terrible draws all summer and although he seems to have gotten over his bad manners, his poor posts have continued. However, despite starting from the six and eight hole in his last two outings, he won both times convincingly and beat Tobern in both of those races.
Then there is the entry (coupled by ownership) of Woweress (Crazy Wow-Chaperess) and Barn Credit (Credit Winner-Nothing But Nice) who are both more than capable of winning. Woweress is trained by George Ducharme and in six starts has two wins including one 7-3/4 length jog in 1:58.2 at Batavia. Barn Credit is another Pratt trotter who, although somewhat camera shy with only one win, has hit the board five out of six times this year.  
Post Time for the first race on Wednesday is at 6 p.m.
Free full past performance programs for every live card of racing at Batavia can always be downloaded at the Downs' website (bataviadownsgaming.com) under the "Live Racing" tab and all the racing action can be viewed as it happens for free at the Batavia Downs Live Facebook page.