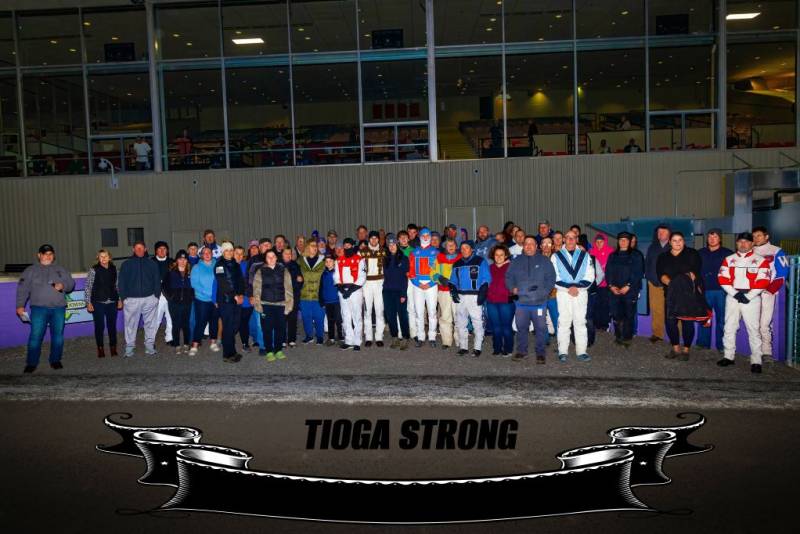 Prior to the start of racing this past Saturday night (Nov. 11) at Batavia Downs, members of the the local driver, trainer, groom and owner colony gathered trackside for a moment of silence to remember and honor their peers at Tioga Downs who lost their horses and their livelihoods as a result of what officials called "a despicable act of arson" that befell that track this past week. 
Many of them, and many of their horses who perished, raced at Batavia Downs, and "the impact of that horrendous event was felt among everyone at the Downs as well as the racing community all across North America," officials said.
When racing got underway, Saturday's card featured two $15,000 Open I events, which were both won by horses driven by Jim Morrill Jr., who dominated in the bike with a total of five wins on the night. 
In the top trot, Morrill got away sixth with Gracious Triumph while Makadushin N Cheez (Kevin Cummings) led the field to the half in a peppy :57.3. Morrill tipped Gracious Triumph first-over into the breeze as they entered turn three and drew alongside the leader at three-quarters. Gracious Triumph took the lead at the apex of the final bend and drew away to a 2-¾ length victory in 1:56.4, which was a new seasonal mark. 
It was the seventh win of the year for Gracious Triumph ($10.40) and owner Harry Wortzman. Shawn McDonough trains the winner. 
Then in the featured pace, Morrill put Mirragon A on the point off the gate and never looked back. Mirragon A set fractions of :28, :58 and 1:24.4 while Out On Bail (Kevin Cummings) tried to keep pace in the pocket. As they made their way down the stretch, Out On Bail made up some ground, but Mirragon A stayed strong and won by a length in 1:53.2. 
It was also the seventh win of the year for Mirragon A ($7.30) who is owned by his trainer Mike Deters, in partnership with Joel Warner and John Manning. 
Morrill rounded out his quintuple crush with Oreo Dream Xtreme (1:56.4, $6.60), Fox Valley Inferno (1:57.1, $4.20) and Prairie Panther (1:55, $2.70), who reached a major milestone by winning the 70th race of his career. 
Live racing resumes at Batavia Downs on Wednesday (Nov. 15) at 6 p.m. and there will be a $1,153 carryover in the Jackpot Hi-5 pentafecta wager in race 13.
Free full past performance programs for every live card of racing at Batavia can always be downloaded at the Downs' website (bataviadownsgaming.com) under the "Live Racing" tab and all the racing action can be viewed as it happens for free at the Batavia Downs Live Facebook page.