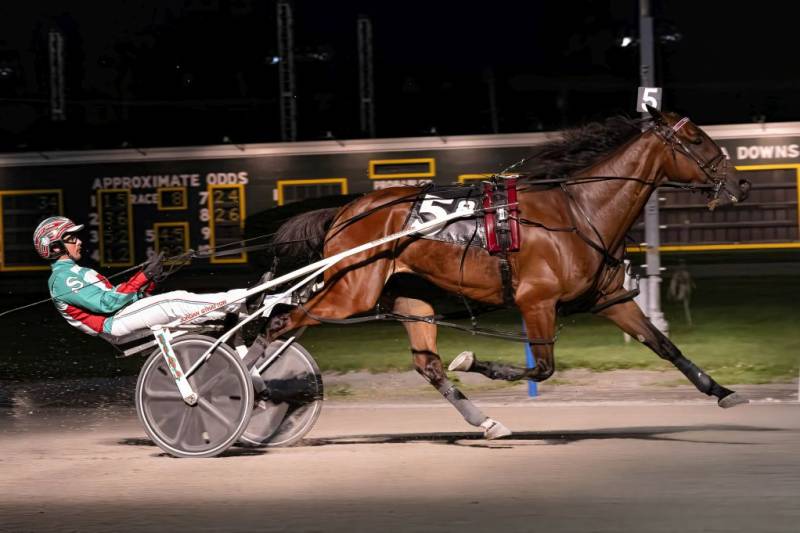 A large trackside crowd was treated to a robust card of racing at Batavia Downs on Saturday night (August 26) that was headlined by the track's signature event, the $75,000 Robert J. Kane Memorial Invitational Pace. A full field of eight top Open pacers went postward with Covered Bridge taking the winner's share of the purse after a dominating finish. 
Covered Bridge (Jordan Stratton) got away fifth as This Is The Plan (Joe Bongiorno) dashed off the gate and crossed over to the lead before the :27.2 quarter. Bongiorno then proceeded to back down the half to :56.3, forcing a first-over move by Idealsomemagic A (Tyler Buter) and Covered Bridge. With the field now in two rows, the top four positions remained unchanged to three-quarters and into the far turn where Idealsomemagic A took the lead from This Is The Plan and Covered Bridge tipped three-deep around Idealsomemagic A. At the top of the stretch, Covered Bridge drew even with Idealsomemagic A before bolting to the line on top by 1-¾ lengths under a line drive by Stratton in 1:52. 
On the strength of his third straight win, Covered Bridge ($3.60) became the sports newest millionaire, with earnings now totalling $1,032,175 for owner Mark Ford. Jeff Gillis was the winning trainer. 
The New York Sire Stakes were also on hand Saturday with three divisions featuring both genders of 3-year-old trotters. 
The colts and geldings lined up first with one field of seven vying for $119,800 where Chapercraz (Crazy Wow-Chapress) was much the best.
Chapercraz (Joe Bongiorno) sat in third, tracking fast first half fractions of :27.4 and :55.4 set by Wild Bill Kelso (Jim Morrill Jr.). Wild Bill Kelso took a three length lead into the second circuit but Bongiorno moved quickly from third with Chapercraz and by three-quarters they were on top. Chaprcraz crossed over in the last turn while Bongiorno bounced relentlessly in the bike into deep stretch where Chapercraz hit the light on top by 3-¾ lengths in 1:54. 
The winning time established a new lifetime mark for Chapercraz and was only one-fifth of a second shy of the Batavia Downs track record for 3-year-old trotting geldings. 
With the win, Chapercraz ($10.00) boosted his 2023 earnings to $336,632 for owners Burke Racing, Weaver Bruscemi and Phillip Collura. Ron Burke trains the Chapercraz who was bred by Purple Haze Stable. 
The fillies went in two short fields and the first, valued at $57,000, was won by Usosweet Blue Chip (Devious Man-Twin B Kisses) who led from gate to wire. 
Usosweet Blue Chip (Marcus Miller) out-trotted Midwind Success (Jordan Stratton) for the lead and set up shop on the point just past the five-eighths. From there she rattled off three identical:29.2 quarters while Midwind Success and Five Fish Species (Mark Macdonald) attempted to keep up. Those efforts fell short and Usosweet Blue Chip turned for home and pulled away by 3-½ lengths to win as Miller sat chilly in 1:56.4. 
Usosweet Blue Chip ($5.00) is owned by the Erv Miller Stable and Douglas Overheiser and is trained by Erv Miller. Blue Chip Bloodstock bred Usosweet Blue Chip. 
The second set of trotting fillies were in pursuit of $58,100 and Royal Filly (Chapter Seven-Swinging Royalty) was absolutely peerless on this night. 
Jean's Action (Kevin Cummings) advanced to the front by the eighth pole and led for a handful of pylons before Royal Filly (Tyler Buter) made a power move to the point and this lead was for good. Royal Filly stepped off quarters of :29.2, :58.3 and 1:27.1 while extending her lead from two to six to seven lengths at each station. With no one even remotely near her in the last turn, Royal Filly turned for home and completed her tour of the facility on top by 10-½ lengths in 1:56.2. 
Royal Filly ($2.20) is owned by Crawford Farms Racing, trained by Tony Alagna and was bred by Jonas Schlabach.
There were also four $20,000 NYSS Excelsior races on the card. The first was won by Kennebago (E L Titan-First Class Act) in 1:58.1 for driver Joe Bongiorno, trainer Ron Burke and owners Burke Racing and Weaver Bruscemi. The second went to Serendipity (Chapter Seven-Vida De Vie) in 1:58.1 for driver Marcus Miller, trainer George Ducharme and owners William Donovan, Jim Winske, Stephen Michaels and Joe Sbrocco. The third was won by Metro Matty (Met's Hall-Order By Matilda) in 1:59.2 for driver Jason Bartlett, trainer John Butenschoen and owner Bay Pond Racing Stable. And the fourth was won by Seven Over (Chapter Seven-Overpowering Lindy) for driver Jason Bartlett, trainer Per Engblom and owners VIP Internet Stable, Rich Preziotti, Heritage Standardbreds and Timothy Drag.
When live racing resumes at Batavia Downs on Wednesday (August 30) at 6 p.m. there will be a $8,813 carryover in the Jackpot Hi-5 pentafecta in the 13th race. 
Free full past performance programs for every live card of racing at Batavia can always be downloaded at the Downs' website (bataviadownsgaming.com) under the "Live Racing" tab and all the racing action can be viewed as it happens for free at the Batavia Downs Live Facebook page.