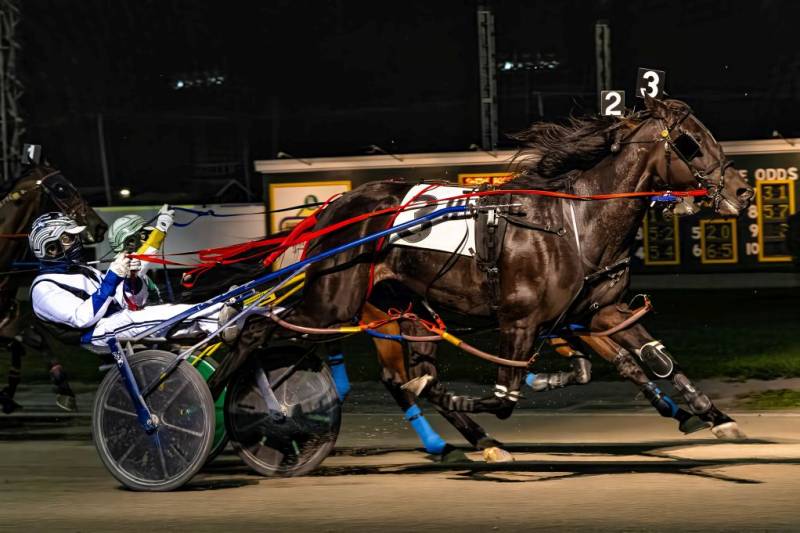 Driver Kevin Cummings and trainer Angelo Nappo teamed up to take the top two feature races at Batavia Downs on Saturday night (Sept. 23) over a speed-bearing track on a beautiful fall evening.
First in the $15,000 Open I Handicap pace, Cummings got away fifth with Stranger Things while Gunslinger Hill (Drew Monti) shot to the quarter in :28.3. However Stranger Things wasted little time getting into the mix, coming first over halfway through the second turn and engaging Gunslinger Hill by the half. After trading strides up the backstretch, Cummings rocked Stranger Things to the front and crossed over at three-quarters in 1:25.3. From there, Stranger Things closed it out on his own, holding off another late bid from Gunslinger Hill and winning by three-quarters of a length in 1:54. 
After taking a new lifetime mark of 1:52.2 last week, Stranger Things ($3.60) made it two straight wins despite moving up in class for owners Kathy Schoeffel, Virginia Schoeffel, and James Reuther. 
Then in the $12,500 upper-level conditioned pace, Cummings took a similar path to victory with Bet Eightthirtyone. After getting away fifth as Remember The Beach (Dave McNeight III) commanded the fractions, Cummings tipped Bet Eightthirtyone second-over behind Nox Vegas Bluechip (Jim Morrill Jr.) at the half and followed his cover to three-quarters where he went three-wide around the fading Nox Vegas Bluechip. He was then kept in the three path by Mighty Santana N (Joe Chindano Jr.), who slipped out of the pocket under him. At the top of the stretch, Remember The Beach, Mighty Santana N and Bet Eightthirtyone were even and all were under heavy drives by their pilots. In deep stretch the race was down to Mighty Santana N and Bet Eightthirtyone with Bet Eightthirtyone getting the nod by one-half length in 1:54.2, tying his seasonal mark. 
Bet Eightthirtyone ($7.60) got his sixth win of the year for his owner Super Mile. 
Cummings went on to win a total of four races during the night including a natural hat trick in races nine, 10, and 11. Trainer Jim Rothfuss had a hat trick of his own to lead all conditioners on Saturday. 
Live racing resumes at Batavia Downs on Wednesday (Sept. 27) at 6:00 p.m. and there will be a $365 carryover in the Jackpot Hi-5 pentafecta wager in race 13.
Free full past performance programs for every live card of racing at Batavia can always be downloaded at the Downs' website (bataviadownsgaming.com) under the "Live Racing" tab and all the racing action can be viewed as it happens for free at the Batavia Downs Live Facebook page.