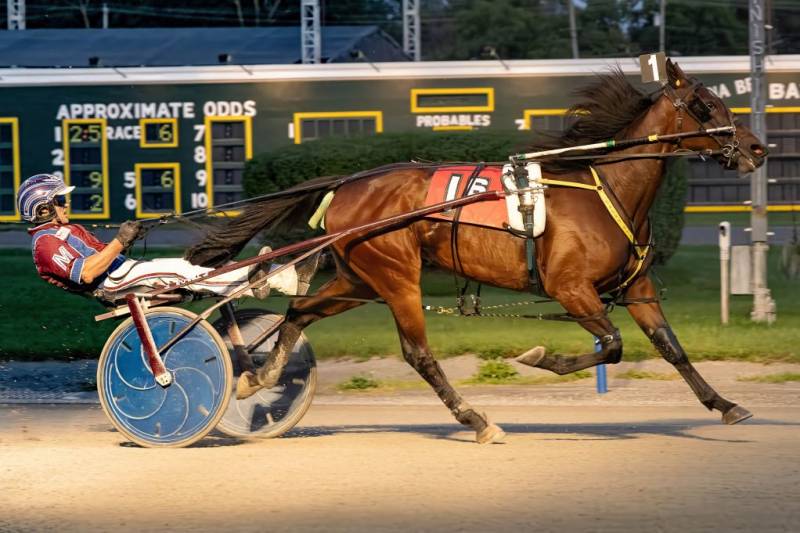 The New York Sire Stakes 2-year-old trotting fillies took center stage in split sets at Batavia Downs on Friday night (Sept. 1) for a total of $103,000 in what was the final visit for the top state-bred series for the year. 
The first $51,500 division was won by Erin (E L Titan-Blurred) in a romp. 
In a field that was scratch-shortened to only four horses, Jim Morrill Jr. pointed Erin down the road and dominated from start to finish. After quarters of :30.1, 1:00 and 1:29, Erin had opened up a nine-length lead heading into the last turn. At the top of the stretch, Morrill sat chilly as Erin was wrapped up and cruising unabated to the line to win in 2:00.3.
It was the first NYSS and lifetime win for Erin ($2.90) who is owned by Ann-Mari Daley, Donald Brenner, and Jared Daley. Dan Daley was the winning trainer of Erin, who was bred by Glengate Farms. 
The second $51,500 division saw quite an upset as Sadbirdstillsing (Chapter Seven-Fade Into You) caught the previously undefeated Sister Mary Maude at the line to notch her second consecutive NYSS victory. 
Jeannie's Action (Dave McNeight III) took the early lead before Sadbirdstillsing (Tyler Buter) overtook her at the :30 flat quarter. As they spiraled out of turn two, Sister Mary Maude (Jordan Stratton) pulled first over from third and brought Seven Year Itch (Kevin Cummings) on her back. Sister Mary Maude cleared as Seven Year Itch drew alongside, leaving Sadbirdstillsing tucked away neatly in the pocket. Positions remained the same until the top of the stretch where Sadbirdstillsing found the passing lane and overtook Sister Mary Maude in deep stretch to win by 1-¼ lengths in 1:59.3. 
Sadbirdstillsing ($9.40) is owned by Crawford Farms Racing and Pryde Stables and is trained by Tony Alagna. Crawford Farms was the winning breeder. 
There were also two $20,000 NYSS Excelsior races on the card. The first was won by Barn CJ (Crazy Wow-Fractured Dream) in 1:59.1 and the second went to Barn Dreamer (Devious Man-HB All Our Dreams) in 2:01.1. Both horses were driven by Kevin Cummings, trained by Steve Pratt and owned by Steve and Nancy Pratt, Purple Haze Stable and Out In The Country Stable. 
Kevin Cummings finished the night with a four-bagger in the sulky. 
The Jackpot Super Hi-5 pentafecta was hit in the 12th race on Friday and paid out a substantial mutuel. The combination of 5-1-2-9-3 returned $12,568,80 for the 20-cent wager. 
Live racing resumes at Batavia Downs on Saturday (Sept. 2) at 6 p.m. Also please note that Batavia Downs will hold a special matinee card on Labor Day Monday (Sept. 4) with post time set at 1:15. 
Free full past performance programs for every live card of racing at Batavia can always be downloaded at the Downs' website (bataviadownsgaming.com) under the "Live Racing" tab and all the racing action can be viewed as it happens for free at the Batavia Downs Live Facebook page.