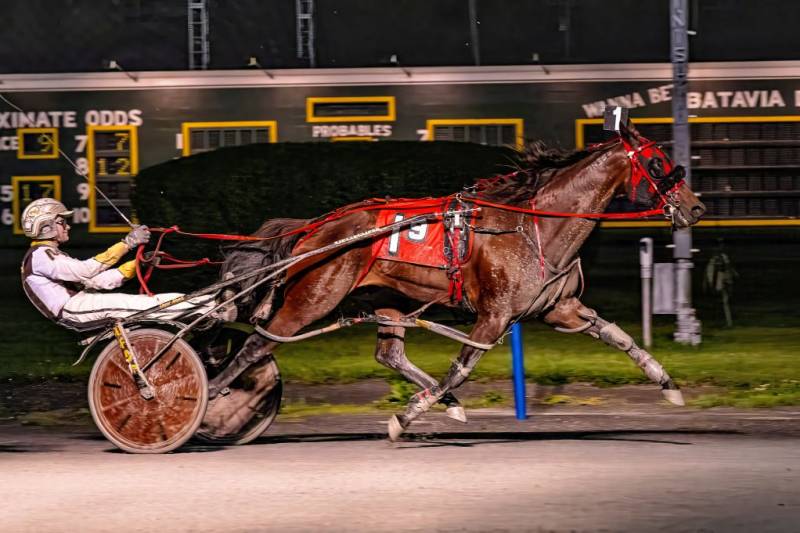 A $15,000 Open I Handicap for each gait topped the bill at Batavia Downs on Saturday night (Sept. 9) and both winners took new seasonal marks as a result of their efforts. 
In the feature pace, Gunslinger Hill (Drew Monti) made it two in a row after taking advantage of a perfect trip. 
Gunslinger Hill took an early lead, but soon found himself in the pocket behind Avon Seelster (Kyle Cummings) who would then battle the parked-out Nox Vegas Bluechip (Jim Morrill Jr.) to the half in :55.3. As the race progressed up the backstretch, Nox Vegas Bluechip began to lose touch with Avon Seelster, forcing Villiam (Joe Chindano Jr.) three-wide and The Longest Yard (Kevin Cummings) four-wide as they headed into turn four. Coming out of that bend, the outside horses started to fade, but Gunslinger Hill took to the passing lane and paced past Avon Seelster before holding off The Longest Yard by a length to win in 1:52.4.
It was the eighth win of the year for Gunslinger Hill ($14.60) and pushed his earnings to $68,580 for owner Ron Viele. Jeniffer Giuliani trains the winner. 
The top trot went to Mugshots Bro (Jim Morrill Jr.) who led at every station enroute to his victory. 
Morrill pushed Mugshots Bro off the gate and got the top as they passed the quarter in :27.4. Once settled on the point, Mugshots Bro slowed the half to :57.1 before hitting the gas and opening up a two length advantage over Special Prosecutor (Drew Monti), Lougazi (Ray FIsher Jr.) and Johnny Boy (Kevin Cummings) who were fanned three across the track from three-quarters to the top of the stretch. As they headed down the lane it became a two-horse race between Mugshots Bro and Lougazi, who was flying. Morrill and Fisher both rocked and knocked to the wire where Mugshots Bro hung on by a head in 1:57.1. 
Mugshots Bro ($6.50) got his fifth win of the year for owners Herman Niedhammer and Herman Niedhammer Jr. and trainer Rose Russo. 
Kevin Cummings had a driving hat trick while Jim Morrill Jr. and Joe Chindano Jr. both had two wins on the card. Trainers Ryan Swift and Jeniffer Giuliani also had two wins apiece during the night. 
Live racing resumes at Batavia Downs on Wednesday (Sept. 13) at 6:00 p.m. and there will be a $1,182 carryover in the Jackpot Hi-5 pentafecta wager in the race 15. Wednesday will also feature eight divisions of the $440,000 New York Sire Stake Excelsior finals that kick off in race two. 
Free full past performance programs for every live card of racing at Batavia can always be downloaded at the Downs' website (bataviadownsgaming.com) under the "Live Racing" tab and all the racing action can be viewed as it happens for free at the Batavia Downs Live Facebook page.