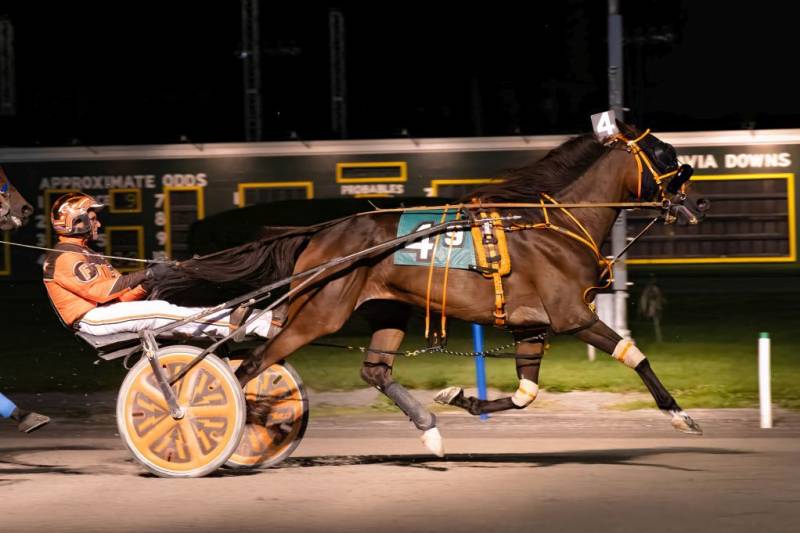 Local trotting favorite Lougazi had an easy time of it in the $15,000 Open I Handicap trot at Batavia Downs on Friday night (Sept. 15) and chalked up his 56th lifetime win as a result. 
Ray Fisher Jr. got away fourth with Lougazi in the scratch-shortened field of five, while Credit List (Kevin Cummings) took the quintet to the quarter in :28.2. As the race passed the stands the first time, Fisher pulled Lougazi who then advanced to second before entering turn three. Heading up the backstretch, Credit List was under heavy pressure from Lougazi, who was trotting comfortably in the breeze. The pair matched strides around the last turn but when they straightened out for home, Lougazi simply trotted away under Fisher wraps while turning back a late challenge from the early breaking, yet fast-closing Makadushin N Cheez (Jim McNeight Jr.) to win by 1-¼ lengths in 1:57.3. 
On the strength of his sixth win of the year, Lougazi ($4.40) is now just shy of one-half million in lifetime earnings, showing $493,866 on his card for owner Mary Warriner. Ryan Swift is the winning trainer. 
In the $13,000 Open II Handicap, I Got The Looks (Dan Yetman) got away fifth as Magic MVP (Joe Chindano Jr.) blasted off the gate and to the quarter in :28.1. As they approached the half, Yetman was already out and rolling with I Got The Looks and drew alongside the leader by three-quarters. After racing in tandem around the last turn, I Got The Looks put away Magic MVP at the top of the stretch and then held off Con Air Hall (Jim Morrill Jr.) by one-quarter length in 1:58, which was a new seasonal mark.
I Got The Looks ($15.80) is owned by Tronolone Racing and trained by Frank Mays. 
Kevin Cummings and Jim Morrill Jr. both had driving triples while Sam Smith and Shawn McDonough each had two training wins. 
Live racing resumes at Batavia Downs on Saturday (Sept. 16) at 6:00 p.m. and there will be a $3,719 carryover in the Jackpot Hi-5 pentafecta wager in race 13.