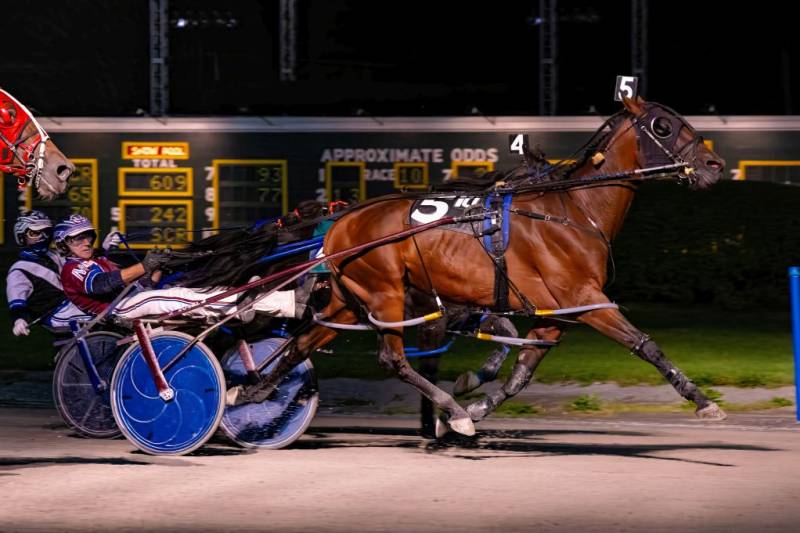 Jim Morrill Jr. had the hot hand in the bike on Wednesday as he won six times during the 13 race card. His biggest tally came with Miss Rockadali, who led at every station en route to victory in the $15,000 fillies and mares Open I Handicap at Batavia Downs on Wednesday evening (August 30).
Morrill left with Miss Rockadali and out-dueled Imprincessgemma A (Kevin Cummings) for the lead in the scratch-shortened field of six, establishing that position at the :27.3 quarter. After settling on the cones, Miss Rockadali slowed the second quarter down to:30.1 forcing Diamondtequilashot (Joe Chindano Jr.) and Summer Slash (Ray Fisher Jr.) into the outer flow, eventually going two and three wide moving towards three-quarters. Summer Slash eventually drew alongside Miss Rockadali in the turn and looked like she meant business. But her bid fell apart in the stretch where Miss Rockadali kept her lead to the wire while holding off Imprincessgemma A and a fast closing Bet I'm Lucky (Jim McNeight Jr.) to win in 1:55.1. 
It was the seventh win of the year and 37th lifetime for Miss Rockadali ($3.20) whose lifetime earnings now total $305,655 for owners Team Italia Racing and Lisette Mota. It was one of three wins for trainer Russell Bratt on Wednesday. 
Besides the already mentioned Miss Rockadali, Morrill also won with Charmbo Orbit (1:57.4, $10.00), A Black Diamond (1:56.2, $3.10), Triumphant's Chip (2:00.2, $3.80), BJ Anthony (2:00.3, $15.40) and Skyway Venus (1:56.3, $5.60) to complete his six pack. 
In the secondary featured $11,000 mid-level condition for distaff pacers, Center Attraction (Jim McNeight Jr.) pulled first-over at the half and started cutting into the lead of the front running Carbon Cider (Joe Chindano Jr.) up the backstretch. Center Attraction drew even with Carbon Cider at three-quarters, matched strides with her around the last turn, and then paced clear in deep stretch by 1-¼ lengths to win in 1:56. 
Center Attraction ($3.20) is owned by her trainer Robert Anderson, in partnership with Pamela Schieber.    
When live racing resumes at Batavia Downs on Friday (September 1) at 6 p.m. there will be a $9,506 carryover in the Jackpot Hi-5 pentafecta in the 12th race. 
Free full past performance programs for every live card of racing at Batavia can always be downloaded at the Downs' website (bataviadownsgaming.com) under the "Live Racing" tab and all the racing action can be viewed as it happens for free at the Batavia Downs Live Facebook page.