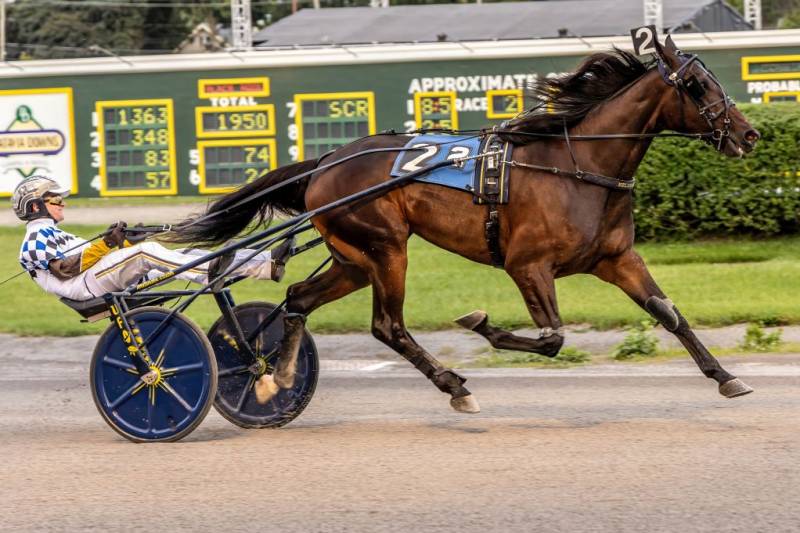 Eight $55,000 divisions went postward in the $440,000 New York Sire Stake Excelsior finals that were held at Batavia Downs on Wednesday night (Sept. 13) and several streaking horses were victorious again and had the support of the betting public.
The 2-year-old trotting filly Dozen (Chapter Seven-Sequin) drafted third for Tyler Buter behind the entry of Barn Dreamer (Jason Bartlett) and Barn CJ (Kevin Cummings) from the start to three-quarters where Buter tipped her and trotted towards the front. At the top of the stretch, Dozen was in full flight and bolted home to a 3-¼ length win in 1:58.2. 
It was the fifth straight win for Dozen ($2.80) who is owned by Diamond Creek Racing and trained by Marcus Melander. Diamond Creek Farm bred Dozen.  
Then the 2-year-old pacing colt Pop It (Huntsville-Pop The Tags) left hard from post one for Mark Macdonald and led the entire race. While leading by 1-½ lengths, Pop It cut quarters of :28.1, :58.1 and 1:27.4 before turning for home and holding off the pocket-sitting Spectacular Plus (Jason Bartlett) to win by one-half length in 1:56. 
That was the fourth straight win for Pop It ($2.70) and owners Schnittker Arnold, Country Club Acres, Joe Sbrocco and Ted Gewertz. Ray Schnittker trains Pop It who was bred by Kathryn Weed and Kenneth Weed.
From the sophomore class, 3-year-old pacing filly Rec Time (Huntsville-Ms Malicious) and Jason Bartlett left for position from post five and dropped in second behind Light And Tight (Jordan Stratton), then and followed that one for seven-eighths of the mile while Sweet Cheyenne (Marcus Miller) applied pressure to the leader from the outside. At the top of the stretch, the passing lane opened and Rec Time paced away down the lane to a two length win in 1:55.1, with a sharp :27.3 final panel.
Rec Time ($3.90), who set Batavia Downs track record for 3-year-old pacing fillies earlier this year, won her sixth race in only eight 2023 outings for owners D Racing Stable and Jason Osullivan. Deborah Daguet trains the filly bred by Fair Winds Farm, Mark Mullen and Steve Jones.
And then 3-year-old trotting filly Serendipity (Chapter Seven-Vida De Vie) got away fourth for Marcus Miller while Five Fish Species (Mark Macdonald) led the field. Woolco (Jim Morrill Jr.) pulled first-over at the half and Miller followed with Serendipity. Halfway through the last turn, Serendipity went three-wide and then under a line drive, pulled away to a 1-¾ length victory in 1:57.1. 
It was the ninth win of the year for Serendipity ($6.00) and owners W Donovan, Jim Winske, Stephen Michaels and Joe Sbrocco. George Ducharme trains Serendipity who was bred by Joie De Vie Farm.
Jason Barltett won three Excelsior finals while Tyler Buter won two. 
Here is a look at the rest of the stake winning performances:
2-year-old pacing fillies
Ideal Skies (American Ideal-No Clouds Bluechip)

Driver – Alek Chartrand

Owner – United Process Control Co.

Trainer – Alek Chartrand

Breeder – Barbara Berger, Richard Carney, Farrell Carney

Time – 1:56.4

Mutuel – $6.40
2-year-old trotting colts and geldings
Sir Pinocchio (Met's Hall-Lady Cromwell)

Driver – Jason Bartlett

Owner – Carolyn Atherton

Trainer – Ed Hart

Breeder – Carolyn Atherton

Time – 1:59

Mutuel – $21.40
3-year-old pacing colts and geldings
Boston Bound (Boston Red Rocks-Ashleyswayrhighway)

Driver – Jim Morrill Jr.

Owner – Rick Berks, Peter Blood

Trainer – Mike Deters

Breeder – Winbak Farms

Time – 1:55.3

Mutuel – $6.60
3-year-old trotting colts and geldings
Seven Sins (Chapter Seven-Isolde)

Driver – Tyler Buter

Owner – Pollack Racing

Trainer – Jeff Cullipher

Breeder – Crawford Farms

Time – 1:57.3

Mutuel – $7.40
Live racing resumes at Batavia Downs on Friday (Sept. 15) at 6:00 p.m. and there will be a $2,142 carryover in the Jackpot Hi-5 pentafecta wager in race 13.
Free full past performance programs for every live card of racing at Batavia can always be downloaded at the Downs' website (bataviadownsgaming.com) under the "Live Racing" tab and all the racing action can be viewed as it happens for free at the Batavia Downs Live Facebook page.