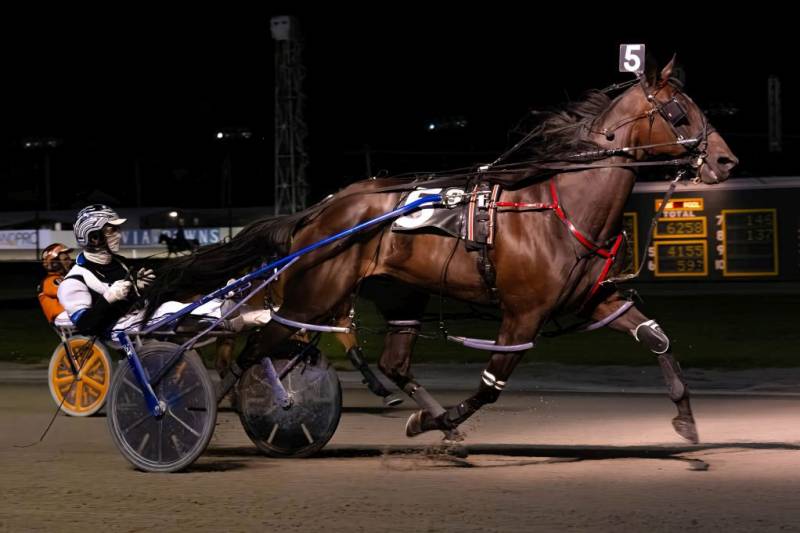 Since coming to Batavia Downs in July, The Longest Yard has not finished worse than second in five starts, and on Saturday (Sept. 16) he grabbed his third $15,000 Open I Handicap pace win and did it in handy fashion.
Mirragon A (Ray Fisher Jr.) was headstrong off the gate and amassed a two-length lead at the quarter in :27.1 while Nox Vegas Bluechip (Jim Morrill Jr.) and Stop Action (Jim Mcneight Jr.) were struggling to keep pace and The Longest Yard (Kevin Cummings) was a distant sixth at this point. The field continued to be strung out to the half where Villiam (Joe Chindano Jr.) pulled first-over and The Longest Yard tagged along behind him.
Mid-way up the backstretch, Villiam succumbed to the pace as Mirragon A hit three-quarters in 1:23.3, so The Longest Yard tipped three-high and around the fading horse as he headed into the last turn and had five lengths to make up with time running out. The Longest Yard passed the pocket-sitting Nox Vegas Bluechip, took dead aim at Mirragon A and was getting closer with every stride. Four pylons into the stretch, The Longest Yard took the lead and then strode away to a two-length win in 1:52.2, which was his fastest win time at Batavia this meet.
It was the fourth win of the year for the fleet-footed The Longest Yard ($2.40) which is owned by Mike Torcello and trained by Sam Smith. The Longest Yard was one of three wins for Cummings on the night and also one of two for Smith.
In the undercard $12,500 upper-level conditioned pace, Fake Out (Jim Morrill Jr.) got away fourth as Bet Eightthirtyone (Kevin Cummings) strolled to the half in a mere :58. As the race passed the five-eighths, Morrill tipped Fake Out and started to roll up the rim towards the leader. Just as they entered the final bend, Fake Out drew even with Bet Eightthirtyone and the two battled to the top of the stretch. There, Fake Out dug in and bolted to a 1-½ length victory in 1:54.1, which tied his seasonal best.
It was the fourth win in the last five starts for Fake Out ($8.30) who is owned and trained by Lee Dahn.
Jim Morrill Jr. dominated the driving colony on Saturday by posting four winners during the proceedings.
Live racing resumes at Batavia Downs on Wednesday (Sept. 20) at 6:00 p.m. and there will be a $4,332 carryover in the Jackpot Hi-5 pentafecta wager in the race 13.
Free full past performance programs for every live card of racing at Batavia can always be downloaded at the Downs' website (bataviadownsgaming.com) under the "Live Racing" tab and all the racing action can be viewed as it happens for free at the Batavia Downs Live Facebook page.