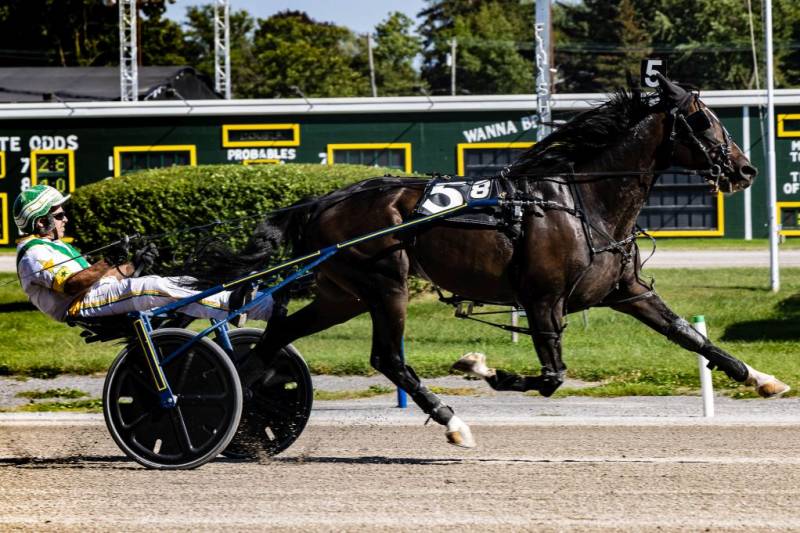 A trifecta of $10,000 mid-level conditioned events topped the bill at Batavia Downs on Labor Day Monday (Sept. 4) as the summer heat returned to Genesee County. 
The initial two features were trots and the fastest of those was won by I Got The Looks (Dan Yetman) who sat fourth to the half before coming first-over in turn three to draw near the leading Muskingum (Joe Chindano Jr.) at three-quarters. I Got The Looks made his way to the top at the head of the stretch and won, pulling away by 1-½ lengths in 1:58.3. 
I Got The Looks ($12.20) got his second win of the year for owner Tronolone Racing and trainer Frank Mays. 
The second trot was won by Lunar Credit (Jim McNeight Jr.) who sat in the pocket while Photo Bomber (Dave McNeight III) and Create My Heart (Denny Bucerri) trotted side by side from the half to the top of the stretch. It was there that McNeight tipped Lunar Credit three-wide and looped them both on his way to a 1:59.2 victory. 
Lunar Credit ($3.40) is owned by his driver and is trained by Jim McNeight.
Then came the pace, which was won by Undertaker (Joe Chindano Jr.) who similarly sat third behind the battling Friskie All Night (Ray Fisher Jr.) and Barry Hanover (Jim McNeight Jr.) until three-quarters when Chindano went three-wide around them both and bolted home by three lengths in 1:56.3. 
It was the 54th lifetime win for Undertaker ($12.80) who is owned by Melvin Fink and trained by Chris Petrelli. 
For the second day in a row, Dave McNeight III was the leading driver with a hat trick on his card.  
Live racing resumes at Batavia Downs on Wednesday (Sept. 6) at 6:00 p.m. 
Free full past performance programs for every live card of racing at Batavia can always be downloaded at the Downs' website (bataviadownsgaming.com) under the "Live Racing" tab and all the racing action can be viewed as it happens for free at the Batavia Downs Live Facebook page.