January 19, 2013 - 1:07pm
Alexander cheerleaders raise money for Austin's Army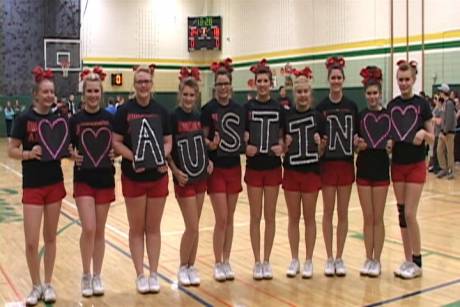 The parking lot at Alexander High School was packed with cars and people from all over the Genesee County community. Folks came out to give their support to an 18 year old 2012 Pembroke High School graduate who has been battling a rare juvenile cancer since last February.
The fundraiser for Austin Heineman during last night's Alexander Boys Basketball match-up with Lyndonville was organized by the Alexander Varsity Cheerleading squad.
"I wanted the girls to see what it's like to give back to the community," Varsity Cheerleading Coach Erin Coles said. "This is their chance to shine for a second, I just didn't expect this many people here." 
Admission was free. Donation buckets, 50/50 raffle, a half-court basketball shoot, a bake sale, and the sale of Austin's Army T-shirts and wristbands collected a total of $1,500 for the night. All proceeds will go toward Austin's medical expenses. 
Austin was scheduled to be at the fundraising event, but had to go to Roswell Park Cancer Institute in Buffalo for stem cell replacement yesterday morning. 
Doctors want to boost his platelet count to prepare him for a bone marrow transplant next week at the National Institute of Health in Bethesda, Md. 
According to Tricia Heineman, Austin's aunt, they have found two good candidates for the bone marrow transplant.
"He has the best attitude -- if there was one to make it through this, it would be him," Tricia Heineman said.
The Alexander Boys Basketball Team defeated Lyndonville 59-39 to make the night complete.
To keep updated about Austin's condition go to www.facebook.com/austinsarmy