January 13, 2013 - 9:18pm
St. Anthony's closing Mass of Thanksgiving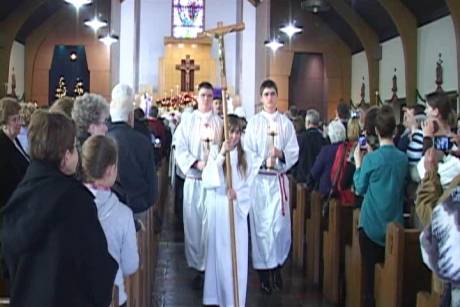 Parking was at a premuim near the corner of Libery Street and Central Avenue this morning as hundreds of Catholics filled St. Anthony's Church for the closing Mass of Thanksgiving. Bishop Richard Malone of the Buffalo Diocese presided over the last mass at the proud Italian parish.
Since 1908, St. Anthony's has served many on the Southside of the city. Today, some parishoners said they felt like they were attending a funeral. Many with tears in their eyes, and some even dressed in black. Ann Valerych has been going to St. Anthony's for 84 years. "This is more of a funeral Mass. It's the end of St. Anthony's and it didn't have to be."
In 2008, St. Anthony's was merged with Sacred Heart to become Ascension Parish. This was part of the Buffalo Diocese's Journey in Faith and Grace program. In September, the Ascension Parish Council recommended that St. Anthony's close its doors Jan. 1, 2013, because of the financial difficulties operating both churches.
The only bright spot of the Mass was one last baptismal. Daniel Fix and Gretchen Gautieri and Godparents Aaron and Kristen Fix brought Sadie Lynn Fix to the alter before the Bishop and the congregation to instill a feeling of a new beginning and celebrate a new life in the church. Gretchen and her family are long-time members at the parish.
"We still have a church to go to, even though it's not this one," Gretchen said. "It's still a sense of community and we will be able to pray together no matter where we are." 
In his homily, Bishop Malone expressed his understanding of people's feelings of anger and sadness over the closing. Malone says there are many Catholics across the Northeast experiencing the same things as you are here. He told parishoners, "We do this as a people who are strong in faith, who have profound hope that Christ leads us forward and to be able to have a kind love in our hearts to overcome the wounds. It's time for a real act of trust."
Paula Fischer says she has tried to fit in with folks at Sacred Heart but has had enough politics. She says it's bittersweet and she won't be staying with Ascension Parish/Sacred Heart.
"I don't feel that sense of community. The meshing of the two parishes never happened and I don't feel welcome." Fischer says. "The Catholic Church in America today, I don't like the path it is going. I have a strong faith, I will always be Roman Catholic. I will find another place to worship."  
The Buffalo Diocese has not said what its plans are for the church or any of the buildings on the property.