December 16, 2013 - 10:50pm
Transformer on fire and down in the road on Pearl Street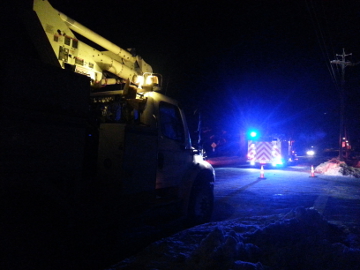 The City of Batavia Fire Department has been called to Pearl Street and Brooklyn Avenue for a transformer down in the road and on fire.
There are reportedly many lines down on the road.
UPDATE 10:50 p.m.: City fire is on location and investigating.
UPDATE 10:53 p.m.: There is a primary line down in front of Tonawanda Terrace. National Grid has been called to the scene. No ETA given. There are some power outages in the area.
UPDATE 10:57p.m.: Pearl Street is blocked to traffic at Brooklyn Avenue.
UPDATE 11:20 p.m.: Some signal lights are out on West Main Street and traffic is reportedly not stopping at the Lyon Street intersection with West Main.
UPDATE 11:27 p.m.: A Sheriff's deputy is directing traffic at Lewiston and Park roads.
UPDATE 11:33 p.m.: National Grid is on location.
UPDATE 12:15 a.m.: National Grid has started to work on the problem. The outage is affecting about 746 customers. The scene has been turned over to National Grid and City fire is going back into service. Estimated restoration time is 2:30 a.m.
December 17, 2013 - 7:19am
#6
Smoke.
It's well known that everything electric runs on smoke. We know it runs on smoke because when the smoke gets out electric things cease to work.
The smoke has to come from somewhere, no? Well, last night the fire got out so no more smoke!
You know this Doug because IIRC you do HVAC/R type work, no?
I'm in manufacturing doing tool and die type work / cnc machining / plastic injection mold making / whatever I can machine and make money on.
It's well known that everything mechanical engineered and made in England leaks oil, but that a subject for another time.
Aliens?
Really?
Sheeze!
lol