Image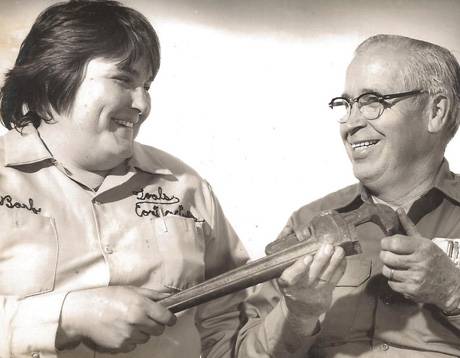 Image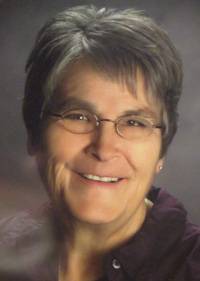 In the 60s, every girl in high school would have been encouraged by her guidance counselor to be a nurse, teacher, secretary, or homemaker.
Barbara, a girl born in 1948, did not like those choices in high school. She wanted to be a plumber like her dad.  Her father, Dwight, began his plumbing business at their home on South Main two years before Barb was born.
On her ninth birthday, she was given her first toolbox. Growing up, she loved nothing better than to watch her father work. In high school, she began working with her father and held onto her dream of following in his footsteps and becoming a plumber.
High school requirements presented problems for her. Girls were barred from taking shop. They were required to take home economics. For this future plumber, making a skirt was not high on Barb's list of accomplishments. However, she was grateful that her mother was best friends with the home economics teacher. When Barb attached a piece of elastic to some material, her teacher gladly accepted her "skirt" and wished her well on becoming a plumber.
Her next assignment was to write a paper on a chosen topic.   She was an avid car racing fan and wrote about drag racing and driving. The book her report was based on was Dragging and Driving by Tom MacPherson.
Writing about something that interested her, she earned an A+ on her paper and the ticket to graduate and continue working with her dad as she had been doing during high school. 
After high school, rumor has it that Barb owned one of the faster cars around, and she could be seen in either her 1958 Chevy 348, one of the first big block motors, or in her 1969 SS Chevelle 396.
In August 1975, she became a licensed plumber. She is the first woman to be certified as a master plumber in New York State. To become a master plumber, Barb had to complete many stringent requirements. It takes ten years of experience to qualify for the master plumbers exam. An apprentice has to work under a master plumber for five years. Then, for the next five years, a journeyman plumber works full-time under the supervision of a master or licensed plumber. A plumber must understand and learn the nuts and bolts of the trade and be familiar with technical standards and all plumbing codes. Understanding the codes allows a plumber to keep buildings in the proper repair. Besides understanding all of the codes, a plumber must be able to draft diagrams to illustrate the work needed. 
The next step to becoming a master plumber is the exam. Barb and her brother Larry prepared for the plumbing exam by going back to school to learn the techniques needed to take the exam. As a result, she proudly owns the title of a master plumber, along with her brother Larry. 
Her mentor, teacher, and role model was her father, Dwight. Any training necessary to be a certified plumber had to be done under the supervision of a master plumber registered in the New York State Department of Labor. Barb and her brother trained under their father, a master plumber.
License numbers 16 and 24 have a special meaning to the Toal plumbers. Barb's father, Dwight's number was 16, and now Barb's brother has their dad's number. Barb's license number is 24, a title she worked for and will proudly own for life.
In 1975, Dwight turned over complete management of his business to Barb.
Besides being a master plumber, Barb could run heavy machinery, lay pipes and work with a jackhammer. Some of her bigger jobs were the plumbing for Ebling Laundry on Ellicott Street and the installation of all bathrooms when the Holiday Inn added 58 new units to their existing inn. Then, on January 6, 1989, she became a plumbing inspector for Batavia, a job she would hold for 20 years. She also inspected the Town of Batavia, the Village of Oakfield, and the Town of Elba.
Barb retired in April 2010. She was also the Batavia Town Historian and created a video from 1802-1998 on our local history. She also wrote a book called Images of Batavia.
After her retirement, Barb was co-founder of the Friends of the Batavia Peace Garden, where she has been past president, project manager, and marketing.
She spends her winters in Charleston, SC, with her sister. Barb drives around Batavia in the summer months on her Honda Gold Wing motorcycle and serves hot dogs on Friday for the Peace Garden in the Holland Land Office Museum parking lot. Batavia is so fortunate and proud to have the first female master plumber in New York State from our city.
Photos courtesy Barb Toal.
Image