July 25, 2012 - 11:42am
420 Emporium raided by multiple law enforcement agencies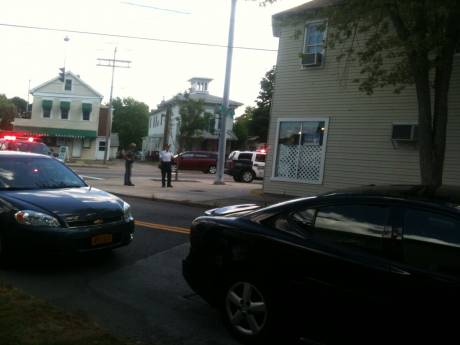 The 420 Emporium on Ellicott Street in the City of Batavia was just raided by the local Drug Enforcement Task Force, agents of the federal Drug Enforcement Administration, the Batavia Police Department, and State Troopers.
UPDATE 11:56 a.m.: This is one of a handful of raids being conducted in Central and Western New York at locations suspected of selling bath salts. Howard, who is on scene, says that when this went down neighbors came out and cheered the officers on, and one person shouted "We've waited a long time for this!"
UPDATE 12:03 p.m.: A few minutes ago, City Councilwoman Rosemary Christian drove by and yelled "Fantastic!"
UPDATE 12:07 p.m.: Any charges resulting from this raid will be federal.
UPDATE 12:57 p.m.: An employee showed up to work at the store and was immediately arrested.
UPDATE 1:21 p.m.: All units are clear from this location.
July 25, 2012 - 1:48pm
#16
Where's Frank on all this? What was it that Frank said about his info being factual and that he was credible. LOL
Oh yeah Frank you said..."More news, one of the owners at 420 said he is not making any plans on closing the doors anytime soon.
With the ban on spice, pipes, and papers will be a booming business, as everyone goes back to pot.
He said he carries 40 different wraps, and a huge selection of smoking accessiories."
Really if thats all they sell I wonder why they were raided and 3 people taken away in handcuffs. As well as 3 egg crate sized boxes siezed and carted off to the labs to be tested? The when your credibility is called into question you responded with..."The name is unimportant, I spoke to the person on several occassions, including the day 420 opened. I was letting them know what they had got themselves into, by setting up shop in Batavia. Sort of like a community service bulletin in reverse.
No pay here Howard, just telling a story as it unfolds."
I said BS and you still insist that...."I was asked not to provide a name. I've been following this story, (bath salts, spice) since the stuff was being sold on the rez, basically, because someone I know and love got tangled up with this stuff.
Kyle, try unplugging the machine, any bs is coming from under your nose. From what I have seen and heard, the chemist will come up with new recipes, and it will be game on again. One of these attempts to circumvent unbalanced substance control laws is going to result in the sale of something lethal, just a matter of time.
I agree with the law enforcement person who suggested arresting the users, that makes more sense. If their actions warrant concern for public safety, throw their asses in jail, just like a disorderly drunk."
Well obviously the BS has hit the fan and guess what, none has splattered on me. Who looks credible now Frank, oops I meant gullible.