August 16, 2016 - 11:43am
Accident reported at Route 19 and Parmalee Road, Le Roy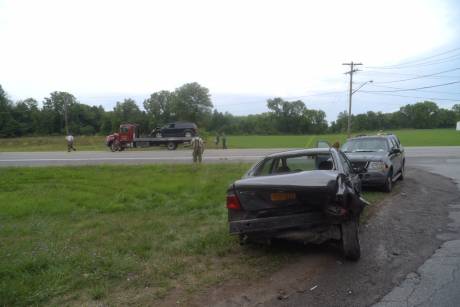 A motor-vehicle accident with unknown injuries is reported at Route 19 and Parmalee Road in Le Roy. Unknown injuries. Le Roy fire and ambulance are responding.
UPDATE 12:14 p.m.: An elderly female driver in a sedan was southbound on Route 19 when she slowed to make a left turn onto Parmalee. Behind her was a Chevy Suburban with four teenagers in it and the driver was following the sedan too closely and failed to notice the sedan slowing to turn, resulting in a rear-end collision, according to the officer at the scene. No one was apparently injured, however. A family member drove to the scene and took the elderly female home after she was evaluated by medics.
August 16, 2016 - 10:02pm
#1
Since the "fact" that the driver was "elderly" had no bearing on the accident, why mention it? To a teenager, everyone over 50 is elderly. Even if she was driving like an old lady, she was not the one at fault.
August 17, 2016 - 9:59am
#2
I'm over 50. She was elderly. And I thought and think it's relevant in this case.
August 17, 2016 - 11:26am
#3
I'm over 60 and I've never had a speeding ticket. I set the cruise control at the speed limit and go. Many elderly people.....I'll choose an age...80 plus and we've all seen them driving very slowly down the road. We give them room and are patient. Let's face it; driving gives us a sense of independence and freedom. Many of these people drive just fine and many do not. For those elderly drivers who are not safe; it is up to the family to intercede to have their license pulled, and that too is hard and a fact of life because we love them and want to keep them safe.