October 11, 2017 - 10:15pm
Accident with injuries reported at East Bethany -- Le Roy Road and Clipnock Road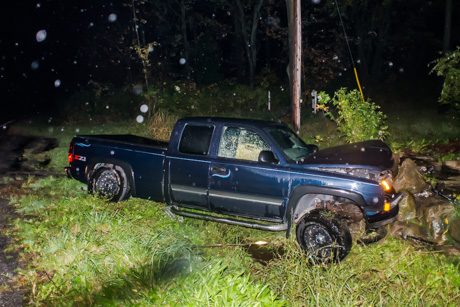 A motor-vehicle accident with injuries is reported at the intersection of East Bethany -- Le Roy Road and Clipnock Road. One subject is said to be unresponsive. Stafford and Bethany fire departments are responding along with Mercy medics.
UPDATE 10:22 p.m.: Command at the scene says responders can continue in non-emergency mode.
UPDATE 10:36 p.m.: The person who called the dispatch center about the accident probably called out to a presumed occupant inside; hearing no response, the caller said the occupant was unresponsive and a dispatcher noted that when the accident was initially toned out to emergency personnel. Actually, the driver -- and anyone else -- in the vehicle, fled as soon as the accident occurred. No one was on the scene when first responders arrived. There's no description of a driver. The vehicle involved is a dark blue Chevy Silverado Z71 extended cab pickup truck with custom wheels and chrome running boards.
UPDATE 10:49 p.m.: It's confirmed that a resident near the accident site approached the vehicle while his wife was inside the house calling 9-1-1 and he yelled out "Hello! Hello! Are you OK?" and he told his wife there was no response, so that's what she relayed to the dispatch center. A deputy on scene said it appears the driver failed to negotiate a right-hand turn at the T-intersection and the vehicle went down into a drainage ditch and collided with some rocks. The pickup truck is registered to a resident of Pavilion.