August 29, 2018 - 3:39pm
Artists receptions for two exhibits to be held at GCC Thursday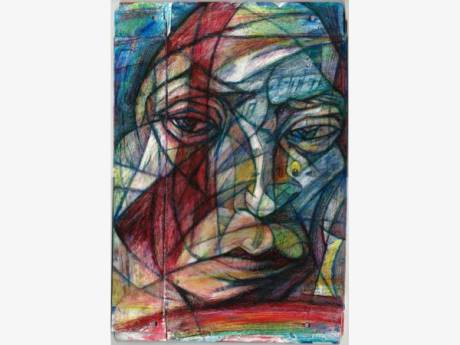 Dion Hitchings, "Lizzie Bull Tongue," 13" x 17.5", crayon, magic marker and colored pen on recycled cereal box, 2016.
Information provided by GCC:
Two artist receptions will be held simultaneously at Genesee Communtiy College tomorrow afternoon (Aug. 30) and the community is invited to attend.
"Portraits on Recycled Trash" is a collection of paintings and drawings by Dion Hitchings which offer a glimpse into his unique world.
On display now through Sept. 22, this glimpse is available to the public through a display in the Roz Steiner Art Gallery at Genesee Community College in Batavia. There will be a gallery reception with the artist at 1 p.m. and again at 5 p.m. on Thursday.
Hitchings' exhibit features portraits created on recycled trash; empty cereal boxes, discarded furniture, and other non-traditional media deemed "trash" by society. In Hitchings's Artist Statement, he describes his process of "break(ing) down pre-existing print, images and textures while allowing the type and pictures from the recycled objects to become organically part of the portrait" he creates with crayon, marker and other supplies.
The resulting portraits appear shattered and broken, often with missing pieces and "form a more powerful, interesting and often disturbing viewpoint" says Hitchings in his Artist Statement. More of Hitchings's work is available on his website here.
Also now on display at GCC through Sept. 22, in the Stuart Steiner Theatre Lobby, is an international photography exhibit called "Landscape Interaction/ Intervention." It features work of students at both GCC and Royal Melbourne Institute of Technology (RMIT)​ in Melbourne, Australia. Contributing photographers will join the reception in the theatre lobby on Aug. 30 at 1 p.m. and again at 5 p.m.
Expanding the boundaries of education, students in Genesee Community College's Intermediate Photography Class have collaborated with teachers and students at RMIT to create an impressive photography exhibit. It is the result of a Collaborative Online International Learning (COIL) assignment, which brings the resources, teachers and students from GCC into a virtual classroom with those at RMIT.
The two institutions use Google Drive, e-mail and social media channels to share lectures and resources and to work collaboratively on progress critiques and assessments. For this assignment, students were challenged with expanding their knowledge of their surrounding landscapes while applying not only trans-national but trans-cultural and trans-photography concepts between the two countries.
In the artists' statement describing the exhibit, GCC student Kasey Edgerton names the rapid adoption of technology as the primary catalyst to the loss of humanity's "innate bond to nature" and its "alienation from the natural world."
About Roz Steiner Gallery
The Roz Steiner Art Gallery is open to the public Tuesdays and Wednesdays from 9:30 a.m. to 3:30 p.m. and Thursdays from 9:30 a.m. to 5 p.m. The gallery is also open during special events as published at www.genesee.edu/campuslife/arts. Admission is free.
For more information, contact Gallery Coordinator Mary Jo Whitman at (585) 343-0055, ext. 6490, or via email: [email protected].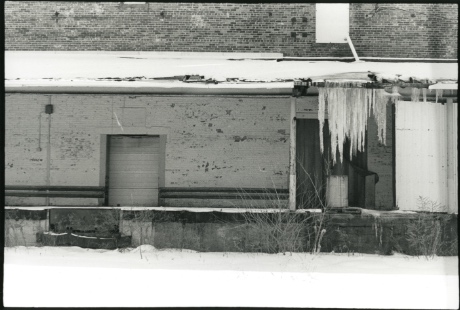 Submitted photo above: "Thaw" by GCC Student Lucas Cook.
Lucas Cook's statement about "Thaw": It was finally sunny out and I was excited. Taken on the last day of Spring Break, I was fed up with the seemingly continuous cycle of gloomy days and snow showers. So, I made the most of the rare early Spring sunny day. Although, my time on my Spring Break had nearly run dry just like the frozen elements whose current state wouldn't last much longer. My laid back state at the time wouldn't last much longer either, as the relaxed days of Spring Break were gone. As I'm writing this, the semester is coming to a chaotic close and after this wave of academically induced stress clears, I'm looking forward to letting this hectic life thaw out and relaxing once again."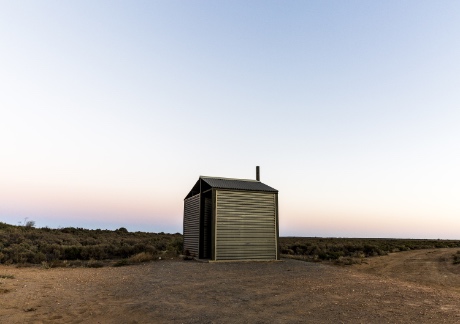 Submitted photo above: ​"The Irony Toilet" by artist Rohan F. Saric-Skews, RMIT University of Melbourne, Australia.
Saric-Skews' poetic caption for "The Irony Toilet":
"Sitting lonely,
Confined by vastness,
Sheltered by hefty resilience,
An Iron toilet lay.
However, 
The irony lay,
In its exteriors, 
Ecological dismay. 
Corrugated Iron; a modern day luxury of the developed world, that is derived from elements of the earth. The Irony Toilet intervenes ones view of the landscape as an entirely natural space, preventing our ability to maintain a distanced gaze."