April 6, 2012 - 3:41pm
Bank robbed in Pavilion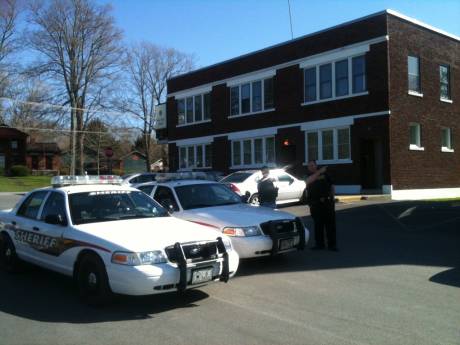 A robbery just occurred at the Five Star Bank on Cato Street in Pavilion. The suspect is described as a black male, 5'6" tall, slim build, wearing a blue and white striped shirt, jeans, a red ball cap and sunglasses. He told the teller he had a gun, but one was not shown. He fled the bank on foot and his direction of travel is unknown. Several law enforcement units are on their way to the scene.
UPDATE 3:43 p.m.: They are going to set up a perimeter to scour for the suspect. Patrols on the interstate highways are alerted as well as those traveling other routes, so are Wyoming and Livingston counties.
UPDATE 3:47 p.m.: They are going to ask Livingston County to send in its canine unit and are also checking the availability of the one in Genesee County. Officers are now interviewing neighbors to determine whether the suspect got into a vehicle and, if so, to provide a description of it.
UPDATE 3:50 p.m.: The canine unit from Livingston County is en route. A neighbor told officers that she saw the suspect get into a vehicle parked at the adjacent St. Mary's Church and there was another black male driving the car. The car's wheels squeeled out of the parking lot and the witness "was so shocked she doesn't remember anything (else)." They are going to check all the streets in the vicinity of the church and along Route 63. A pizzeria in the area had a security camera on and they are going to check it.
UPDATE 3:56 p.m.: "It appears they took off in the car pretty quickly." The suspects are estimated to be in their mid- to late 20s. The canine unit from Genesee County is not available.
UPDATE 3:59 p.m.: The camera by a nearby ATM machine is being screened to glean possible information.
UPDATE 4:04 p.m.: After speaking with a woman in the area, they are looking for a full-sized, silver-colored pickup truck with a regular cab. The witness saw it shortly before she was telephoned about the robbery and it was parked by the basketball courts by St. Mary's.
UPDATE 4:31 p.m.: Wyoming County authorities are reporting that they found a green car roadside (didn't catch which road) and the engine is still running, but no one is around it. They are checking the plates. It is unknown if this is related to the robbery or just an odd circumstance.
UPDATE 4:35 p.m.: They are saying the abandoned vehicle found with its motor running is a green pickup truck car. It's in the vicinity of Crossman and Starr roads, "by a trestle" in Wyoming County. 
UPDATE 4:38 p.m.: The license plates come back to a Le Roy resident, born in 1934, and there's no (telephone) answer at the owner's residence. Again, this may be completely unrelated to the robbery.
UPDATE 4:53 p.m.: Now they are checking on another matter, saying it's unknown whether related to the robbery. A person is going door to door in the area of 10982 S. Lake Road (Route 19) in Pavilion asking for gasoline. The caller could not provide a description of the person because of poor vision.
April 6, 2012 - 4:27pm
#1
I was just driving through there and was wondering what was going on with all of the police cars. I hope they catch the guy!
April 6, 2012 - 5:23pm
#2
Thanks for keeping on top, Billie. It gets crazier by the minute! There were 6 GC Sheriff's cars here and 3 State Troopers. (From what I could see.)
The gals at the bank ~ how frightening for them. Can't imagine. They are such sweethearts.
Let's hope the surveillence cameras & police investigators find these guys.
April 8, 2012 - 7:05am
#3
The poor quality of the security photo's of the suspect really surprises me. One would think that the bank's camera system should be able to produce pictures that are more clear to assist in identifying suspects.