August 8, 2015 - 3:03pm
Batavia couple jailed without bail after young pit bull scalded with water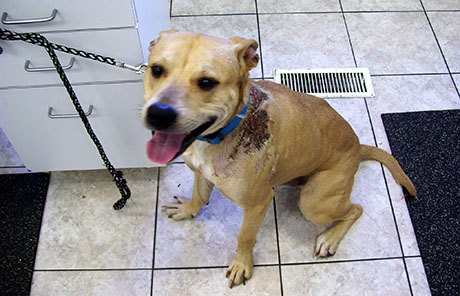 | | |
| --- | --- |
| | |
| Brandon Maldonado | Melissa Broadbent |
A Batavia couple who lives on Walnut Street in the city is facing multiple charges relating to animal cruelty, according to a press release this afternoon from Batavia PD.
Brandon M. Maldonado, 26, of 52 Walnut St., is charged with aggravated cruelty to an animal and offering a false written statement.
His live-in girlfirend, 36-year-old Melissa A. Broadbent, is charged with: "overdriving, torturing and injuring" an animal; endangering the welfare of a child; first-degree coercion; offering a false written statement; intimidating a witness or victim in the third degree; and owning/harboring an unlicensed dog.
Both were arraigned in front of City Court Judge Durin Rogers and put in Genesee County Jail without bail.
On Aug. 3, Batavia Police Officer Flanagan and Animal Control Officer Sheflin received a report that Maldonado poured scalding water on a young pit bull named "Rocky" sometime between July 20-21 at his residence. This resulted in second-degree burns on the dog's shoulders and rib cage, causing considerable pain.
Through the officers' investigation, it was determined that Broadbent lied to the police and instructed her children to do the same thing -- pour scalding water on the dog -- in an attempt to prevent Maldonado from being arrested.
The couple was subsequently arrested. Rocky was taken to a vet where he was treated for his injuries and is now in the care and custody of the GC Animal Shelter.
August 9, 2015 - 9:53am
#3
Sorry Howard, it wasn't personal. I just have very limited tolerance for anyone who would torture a dog and then make a kid an accomplice. Being a scumbag is one thing, recruiting innocents to take the fall for you is incomprehensible. Maybe not in Batavia but everywhere else in the world. I would die for my dog and my kids. If you can torture a dog, you can torture a child, you know that, it is a fact. Please delete at your pleasure, I hope they get the max.