March 1, 2018 - 2:21pm
Batavia CTE Center auto tech students place in top five in WNY competition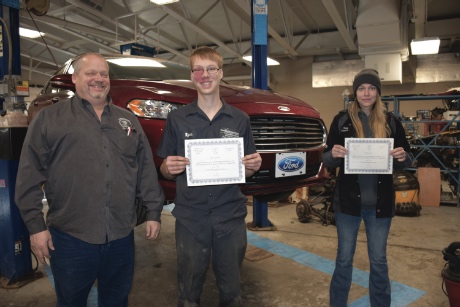 Photo: Bob Yates, Batavia CTE Center Auto Technology instructor, with Ryan George and Cassidy Cater.
Submitted photo and press release:
Despite a tough contest, Cassidy Cater and Ryan George, Batavia Career and Technical Education Center Auto Technology students, placed fourth in the Ron Smith Auto Tech Competition, sponsored by the Niagara Frontier Automobile Dealers Association.
Cassidy and Ryan are seniors from Attica Central Schools.
Beforehand, Cassidy and Ryan worked every school day for two weeks at Basil Ford in Cheektowaga. There they practiced with a technician on a 2018 Ford Escape.
During the competition, Ryan and Cassidy worked through timed stations where they were required to complete tasks such as precision measurement, drop voltage, balancing a tire, splicing a wire, and soldering. In order to receive points, these assignments needed to be completed in less than 10 minutes.
"I was comfortable doing these tasks because I was familiar with this work," Ryan said. 
"These are things that we learned in our class. Mr. Yates prepared us for what we might have to do during the competition," Cassidy said.
A total of nine teams competed, all from schools and career and technical education centers across Western New York. Cassidy and Ryan were in the senior division. The daylong event was held at Erie Community College Vehicle Technology Training Center in Orchard Park. 
Competition was fierce said Bob Yates, Auto Technology Instructor at the Batavia Career and Technical Education Center.
Ryan and Cassidy were required to diagnose and repair a 2018 Ford Escape that was bugged with many mechanical issues.
"There were very intricate and technical bugs that were set up in the car," Yates said. "Even a seasoned technician would have struggled with some of these problems. The rear hatch would not open and Ryan had to reprogram it and he got it to work. Very few teams got the car to operate and Ryan and Cassidy got the car to start and run."
"We also had to do a pinpoint test, which is a step-by-step procedure on how to fix the car. We got a perfect score on the alignment and the alignment test," Cassidy added.
"The competition was scored on a total of 1,000 points," Yates said. "The difference between the first-place score and fourth-place was only 21 points." 
Ryan described the event as a great experience.
"It was fun, hands-on and taught me a lot about electrical systems in cars." Cassidy said "It gave us a taste of what working in the real-world will be like."
About Batavia CTE 
The Batavia Career and Technical Education Center is a program of the Genesee Valley Educational Partnership. The Partnership operates as a Board of Cooperative Educational Services offering shared programs and services to 22 component school districts located in Genesee, Wyoming, Livingston and Steuben counties in New York State.