May 24, 2018 - 1:24pm
Batavia Girls Fastpitch Softball plays in debut Lions Club Memorial Day tournament Saturday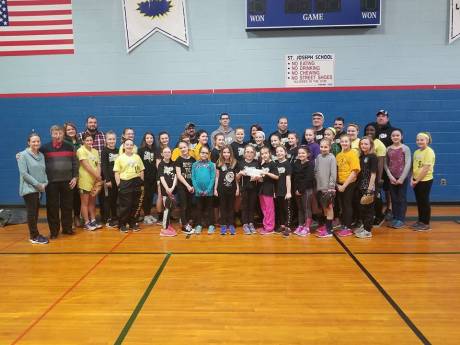 The Lions Club presents Batavia Girls Fastpitch Softball with a check for $1,000 to cover the Memorial Day tournament costs.
Submitted photo and press release:
The Batavia Girls Fastpitch Softball (BGFS) organization is holding its debut Lions Club Memorial Day Softball Tournament this Saturday, May 26th, over the Memorial Day Weekend.
The Batavia Lions Club has generously agreed to partner with BGFS in sponsoring what is hoped to be the first of a long-running annual fastpitch softball tournament.
The inaugural tournament will be comprised of four 12-and-under teams from Batavia, Perry and Lyndonville.
The day's events are listed below:
Batavia Stingers Black vs. Lyndonville – John Kennedy School – 9 a.m.
Batavia Stingers Yellow vs. Perry – Lions Park – 9 a.m.
Skills competition – individual hitting contest and team throwing accuracy contest – Lions Park – 11:15 a.m.
Consolation game (losing teams from morning games) – Lions Park -- 12:15 p.m.
Championship game (winning teams from morning games) – Lions Park – 2:30 p.m.
There will be a concession stand open throughout the day serving hot and cold drinks, hot dogs, pizza and snacks.
Come on out and watch these young ladies compete while enjoying a snack or lunch at the ball field.