January 12, 2018 - 1:41pm
Batavia man dedicates bell plaque he created for radiation therapy patients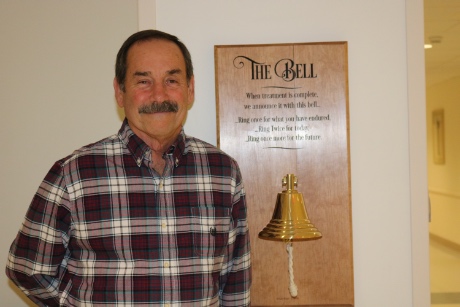 Cancer survivor Mike Mager, above, had the bell plaque engraved with brief instructions: "When treatment is complete, we announce it with this bell. Ring once for what you have endured. Ring twice for today. Ring once more for the future."
Submitted photo and press release:
When Mike Mager, of Batavia, finished his seven weeks of radiation therapy, he was relieved and happy. But after the 33 grueling treatments in Wilmot Cancer Institute's Radiation Oncology facility at Strong Memorial Hospital, he wished he could have done more to mark the occasion.
"It was like crossing the finish line, but there wasn't anything there," Mager says.
As he continued his recovery, he decided to change that. Mager, who does carpentry in his free time, found a bell and created a plaque for it.
The bell, now hanging in a corridor near the treatment rooms, was dedicated on Tuesday, Jan. 9. It's low enough for pediatric patients or adults in wheelchairs to reach and ring when they've finished treatment.
"Mr. Mager is very creative to create a beautiful piece of art for patients who have completed their radiation treatment course," says Yuhchyau Chen, M.D., Ph.D., chair and the Richard T. Bell Endowed Professor of Radiation Oncology at Wilmot.
"We hear the lovely bell chime 20 to 30 times per week on average. Our patients are so appreciative of Mr. Mager's kindness and consideration. With this bell, patients share a common bond in completing treatment and starting the new chapter and new hope in cancer survivorship."
In 2016, Mager was diagnosed with a head and neck cancer. He underwent complex surgery with Paul van der Sloot, M.D., to remove the tumor before he began the intensive radiation therapy with Deepinder Singh, M.D.
"My doctor said the first week would be easy but the last weeks would be hell," Mager recalls.
By that final week, the side effects of the treatment left him feeling so sick and dehydrated that he required IV fluids.
"It's an achievement to make it through what I went through," Mager says, and he wanted the bell to reflect that.
He had the bell plaque engraved with brief instructions: "When treatment is complete, we announce it with this bell. Ring once for what you have endured. Ring twice for today. Ring once more for the future."
"It takes a special heart to convey feelings like this," says Singh, Mager's radiation oncologist. "Dedicating this bell is important to our patients and our department. It recognizes how hard our staff works to take care of our patients, and it is inspiring to those going through the ups and downs of treatment."
Even though more than a year had passed between when Mager finished treatment and when he rang the bell, he said he looked forward to it.
"It made me feel complete," he says.
###
UR Medicine's Wilmot Cancer Institute is the Finger Lakes region's leader for cancer care and research. As a component of Strong Memorial Hospital, Wilmot Cancer Institute provides specialty cancer care services at the University of Rochester Medical Center and a network of locations throughout the region. The Institute also includes a team of 100 scientists who investigate many aspects of cancer, with an emphasis on how best to provide precision cancer care. To learn more, visit wilmot.urmc.edu