January 3, 2017 - 3:52pm
Batavia PD seeks public's help in solving burglary at Glass Roots last month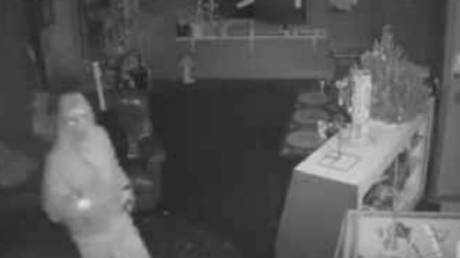 Photo and info from our news partner 13WHAM.
Batavia Police are asking for help in locating an individual in connection with a burglary that took place last month at the Glass Roots store, located at 12 Center St. downtown.
According to police, the incident happened during the overnight hours between Dec. 11 and 12.
Police released surveillance images taken on the night of the burglary.
Anyone with information is asked to call Crime Stoppers at 423-9300.
January 3, 2017 - 6:25pm
#1
Hey!
I've seen that guy!
Uh...no...wait!
The guy I'm thinking of was the character Griffin, in H.G. Wells' book, "The Invisible Man", when he sought refuge at the Coach and Horses Inn.
Of course, the imagination only assumes what the cloaked, gloved, scarf-covered Griffin must've looked like.
Well, the person in the picture above nailed the "look" perfectly!
January 3, 2017 - 7:49pm
#2
he's wearing a hijab, lol, maybe it's a woman. ha ha ha to me, they all look alike. wish I could help.....
January 4, 2017 - 7:28am
#3