March 20, 2018 - 2:32pm
Batavia retiree and student team up for new weekly 'Geezer Radio' show airing on WGCC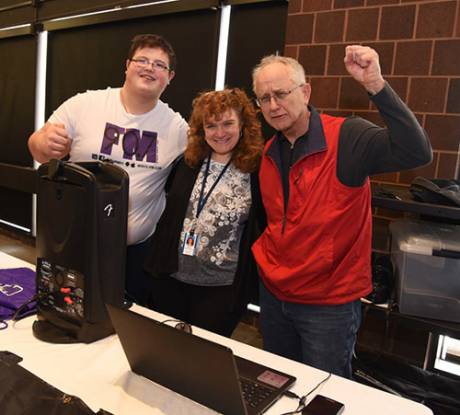 Richard Beatty (right) with Kelli Pease (center), WGCC faculty advisor, and student announcer Austen Vroman (left) at GCC's recent Student Club Fair.
Submitted photo and press release:
Richard Beatty, of Batavia, and Cody Catlin, of Waterport, opened their new radio show with a long song by Big Brother and the Holding Company, and they continued on to play a little Bob Dylan, Creedence Clearwater Revival and even a Chet Atkins number.
All were songs from the WGCC library of music that don't see a whole lot of play time anymore.
Those tracks of music from the '50s, '60s, '70s and beyond will begin to see a bit more airtime on most Thursday nights from 8 - 10 p.m.
Genesee Community College's student-run radio station, WGCC (90.7 FM), has welcomed the interest of Beatty, who has many years of music appreciation and a wide personal collection of albums, CDs, a few cassette tapes and now streaming playlists.
At 67 years old, he quickly reflects back on 50-plus years of attending concerts across the country. 
"One of my first concerts was the Who opening for Herman's Hermits -- after experiencing Pete Townshend's windmill attack on his guitar and Keith Moon's drumming, I didn't bother sticking around for Peter Noone's crooning," Beatty said.
"I was lucky enough to see many of the greats before their lives were cut short -- maybe the best was the Allman Brothers in '71 at a University of South Florida gym in Tampa -- my recollection it was a four-hour show."
RaeAnn Engler, Richard's partner in life, has shared many great club shows in the 21st century.
"We shy away from arena shows and prefer club shows featuring largely unknown acts," Engler said. "We saw a Jeffery Lewis show in Medina where the band outnumbered the audience. It was still a great show!"
Beatty, a retired industrial property appraiser for New York State Real Property Services, approached the College about his interest in developing a weekly program to feature music from earlier years, creating a community opportunity that he hoped would allow him to interact with GCC students, exchange an appreciation of music and even feature of few special guests on his "Geezer Radio" show.
On March 22, his first guest is local author and screenwriter Bill Kauffman, who was also GCC's 2017 Commencement speaker. Other proposed guests may be Craig Yunker, another friend of the College who attended Woodstock, GCC retirees and musicians Ray Chaya and Bob Knipe, Richard Schauf, detective for Batavia Police Department, and maybe even GCC President Jim Sunser.
Working with the students has been a pleasure for Beatty. He has enjoyed helping them relocate station equipment during the renovation project between the fall and spring semesters. He regularly attends station meetings, and he supported WGCC at the Student Club Fair.
"Cody (Catlin) has been a real pleasure to work with, and I appreciate all that he is teaching me about the equipment and airtime guidelines," Beatty said. "And Kelli Pease, the faculty advisor to the station and also a GCC alumna, has also been a joy to work with. In the world of being retired, it doesn't get better than this."
This spring, Beatty plans to help out at GCC's Scholars' Symposium on March 29.
Beatty is also president of Landmark Society of Genesee, a docent volunteer for the Darwin Martin House in Buffalo, and a regular supporter of Richmond Memorial Library Books Sandwiched In program.
WGCC is a not-for-profit non-commercial radio station run by the students, faculty and staff of Genesee Community College. It's been on the air since 1985 and has become a well-loved part of the Batavia community.