June 21, 2019 - 1:51pm
Batavia's Katie Kesler receives Twiness Award for scholarship and ideals of service at Boston U.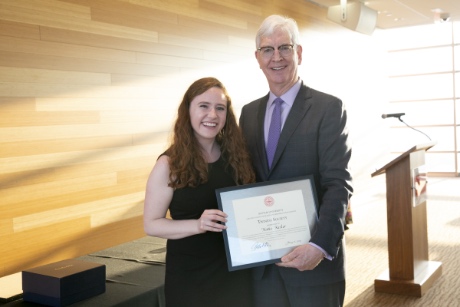 Katie Kesler accepting the award with BU Sargent College Dean Chris Moore. Photo by Katherine Taylor for Boston University Photography.
Katie Kesler, of Batavia, received the Twiness Award from Boston University (BU) College of Health and Rehabilitation Sciences: Sargent College at the annual Senior Awards Reception on May 17.
The Twiness Award is presented to graduating seniors who exemplify the ideals of service, loyalty, thoughtfulness, and excellence of scholarship.
An alumna of Batavia High School, Kesler graduated summa cum laude with a Bachelor of Science in behavior and health on May 19.
"Student leadership taught me how to utilize my passion for disability advocacy to start meaningful dialogues surrounding perception of disability," Kesler said. "I am a proud sibling of an individual with Down syndrome, and I am a vocal advocate for inclusion and the destigmatization of intellectual disability."
While at BU, Kesler served as vice president of BU Student Volunteers for Special Needs, a Camp PALS counselor, and a peer mentor for Partners for Youth with Disabilities.
She was a member of the Navigators Christian Fellowship leadership team at BU, a member of the BU Student Occupational Therapy Association, a Sargent College peer mentor, and an assistant teacher at the BU Children's Center.
Kesler was a Dean Elsbeth Melville Scholarship recipient, awarded for academic and extracurricular excellence as well as demonstrated promise in future fields. She was also inducted into the Sargent College Honor Society and received the Pamela Posen Endowed Memorial Scholarship.
"Katie is empathic and insightful and looks out for fellow students -- she is bright, dedicated, and hardworking," said Clinical Assistant Professor Anne Sullivan-Soydan.
"Most importantly, Katie is, quite simply, a good person, with high moral character and personal integrity. I believe she has excellent potential to make significant contributions in her chosen field; indeed, I believe she will be a leader."
After graduation, Kesler will pursue her doctor of occupational therapy degree at the Massachusetts General Hospital Institute of Health Professions.
About Boston University College of Health and Rehabilitation Sciences Sargent College:
It is an institution of higher education which fosters critical and innovative thinking to best serve the health care needs of society through academics, research, and clinical practice. As reported by U.S. News and World Report, its graduate programs in Speech-Language Pathology and Physical Therapy rank in the top 6% of programs while Occupational Therapy is #1 in the nation.
The College has more than 25 on-campus research facilities and clinical centers and offers degree programs in occupational therapy, physical therapy, speech, language and hearing sciences, health science, athletic training, human physiology, behavior and health, and nutrition. For more information, visit bu.edu/sargent.
Founded in 1839, Boston University is an internationally recognized institution of higher education and research. With more than 33,000 students, it is the fourth-largest independent university in the United States. BU consists of 17 schools and colleges, along with a number of multidisciplinary centers and institutes integral to the University's research and teaching mission. In 2012, BU joined the Association of American Universities (AAU), a consortium of 62 leading research universities in the United States and Canada.