May 9, 2019 - 2:24pm
BCSD Foundation announces two Apple Award winners
Submitted photos and press release:
The BCSD Foundation lnc.'s Board of Directors is pleased to announce the recent recipients of the BCSD Foundation Apple Award.
The BCSD Foundation Apple Award is given by a member of the school and/or local community to a Batavia City School District employee or volunteer. In the opinion of those giving the honor of this distinction, the awardee has gone above and beyond in their role and is being recognized by one or more people for these accomplishments.
Two people received a Foundation Apple Award during the month of April.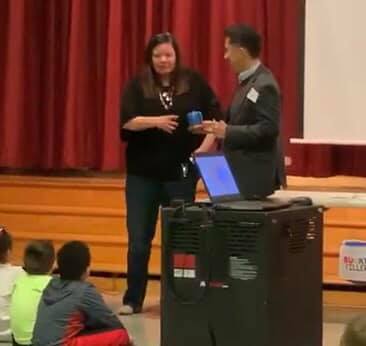 Julie Wasilewski, above left, is a counselor at Jackson Primary School. Wasilewski was recognized anonymously as someone who goes above and beyond with everything she does. It is evident that the students in our District are her first priority, and therefore she goes to any length to assure that all their needs are met. She is a strong advocate for our students and staff.
Thankfully, through the breadth of her experiences, she is able to provide support to the families in our community in which she serves. Wasilewski can always be counted on to volunteer or participate at all events at Jackson Primary, as well as throughout the school community; and does so with the most welcoming smile.  Her joyful personality is second to none, and something that contributes to her approachability.
The BCSD is fortunate to have such a dedicated, caring and genuinely good-hearted individual working within its organization, as she continues to have a positive effect on so many lives.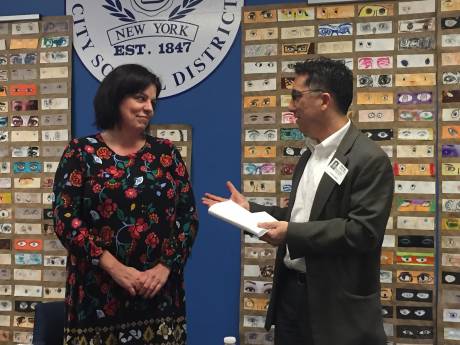 Julia Rogers, above left, is the coordinator of Assessment and Instructional Services for Batavia City School District. Rogers was given this Foundation Apple from the BCSD Foundation Board of Directors. Rogers spent countless hours to ensure the successful establishment and development of this Foundation.
She has served as a leader in all areas of the Foundation since its inception and the members of the Foundation could not be more grateful.
As an administrator here in this district, Rogers has always gone above and beyond the call of duty. It is well known that Rogers gets things done effectively and always with a love for our District in the back of her mind. Behind many of the functions that take place is guidance and assistance from Rogers.
Behind her actions is always the best for BCSD. She exemplifies what it means to "Take Care of BCSD."
Nominations for a Foundation Apple Award
Local artist, Mark Jensen, will be making each individual resin apple -- none will be exactly the same. If you are interested in giving a Foundation Apple Award, please submit your nomination form and $75 (payable to the BCSD Foundation Inc., 260 State St., Batavia NY 14020, att: Allison Chua). Nomination forms may be found on our webpage (at www.bataviacsd.org under Quick Links).
Community members with questions are asked to email us at [email protected]