Image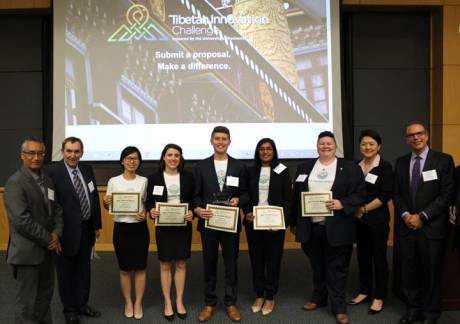 Submitted photo of Batavia High School graduate Brandon Smart (center) and his team (holding certificates and trophies) at the University of Rochester, who took Third Place last week in the Tibetan Innovation Challege. Team members are, from left: Su Sean Ng, Sarah Spoto, Smart, Fahria Omar and Kat Cook.
Press release:
Brandon Smart, 2016 graduate of Batavia High School and now an undergraduate at the University of Rochester, along with his four teammates placed third in the Tibetan Innovation Challenge.
This is an intercollegiate social entrepreneurship business plan contest. Top universities from around the world compete in this challenge. The ideals submitted from this contest are meant to improve the lives of Tibetans living in refugee camps in India.
Smart and his team competed with four others finalist teams in the final round of the competition June 3 in Rochester. The winning team was from the Simon Business School at the University of Rochester.
Smart's team proposed a powder and water that used the power of barley to provide benefits to consumers while aiding Tibetan refugees at the same time.
All of the business proposal were presented to a lecture hall of people, including the four judges and Dalai Lama representatives. The judges and coordinators said this was the toughest and closest competition thus far. 
The teams that made the finals were of high caliber, all of them MBA students from top universities.
Smart was the only undergraduate student who made it to the finals, and on his first try, the rest were all graduate students, several of whom had competed in the challenge previously. He was also the youngest finalist in the competition's history.
"It was such a great experience...truly an amazing moment," Smart said. "I will be forever grateful for and inspired by these amazing women. They gave me the opportunity of a lifetime by adopting me onto their team. They saw potential in me and this led to the other graduate students and judges from the competition to see potential in me as well.
"I've been seeking and preparing for an opportunity like this for several years and I can't thank Su Sean Ng, Sarah, Fahria, and Kat enough for all that they have done for me. We hope to push the company live in the near future, selling Mya Barley Powder to local areas and expand as demand increases. We turn a profit by year 2 so the ROI is very strong."