May 9, 2019 - 2:35pm
BHS senior is Female State Winner of Student-Athlete Essay Scholarship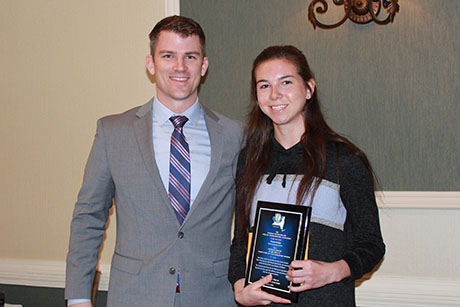 Above, Chapter V representative Patrick Irving and essay winner Brianna Bromley.
Submitted photo and press release:
Batavia High School senior Brianna Bromley was recently recognized by Chapter V of the National Interscholastic Athletic Administrators Association as the recipent of the female winner of the 2018-19 Student-Athlete Essay Scholarship Program.
She read her essay at the annual Dennis E. Fries Luncheon at the Burgundy Basin Inn. She was presented a plaque and scholarship money from the association.
On the plaque was written: "Your essay, which documents how high school athletics have enhanced your educational experiences, was selected as the best entry from your Chapter of the NYSAAA. We salute you and thank you for helping our organization illustrate the many ways that athletics positively influences the lives of student-athletes."
The winning essays from each Chapter of the NYSAAA were then sent to the NYSPHSAA. Brianna was chosen as the 2019 Female State Winner at the NYSAAA annual conference in Saratoga Springs.
She received a plaque and scholarship money from the NYSPHSAA honoring her for "the best entry in the State."
This is the second time that a BHS senior has received these two prestigious awards. Jennifer Adams was a recipient in the 2007-2008 school year.