July 24, 2018 - 7:08pm
Big rig rollover with injuries reported in Pavilion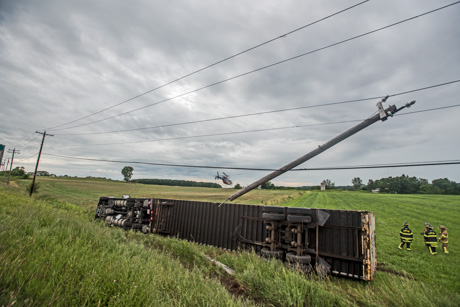 A tractor-trailer rollover accident with injuries is reported in Pavilion at Ellicott Street Road and Starr Road. The driver has shoulder and head injuries, according to a first responder on scene. Wires and utility poles are down. Mercy Flight is called.
Pavilion Fire Department and Mercy medic #5 are responding to the scene.
UPDATE 7:14 p.m.: National Grid has been advised; no ETA.
UPDATE 7:20 p.m.: Mercy Flight #5 out of Batavia requested to the scene; no ETA yet.
UPDATE 7:23 p.m.: A heavy-wrecker tow will be called. The estimated weight of the rig is 80,000 pounds.
UPDATE 7:25 p.m.: Mercy Flight has a 10-minute ETA.
UPDATE 7:27 p.m.: The landing zone will be set up in a field on the north side of Route 63, near the incident location.
UPDATE 7:37 p.m.: "National Grid comin' at you," says a first-responder near the accident site. Also, Mercy Flight has landed.
UPDATE 7:54 p.m.: The male driver was transported to ECMC mainly as a precaution to determine any possible internal injuries. He told officers at the scene he swerved to avoid a deer, causing a rollover.
UPDATE 8:04 p.m.: This wreck will be difficult to move, according to people at the scene. The job will be handled by Parise's Automotive and Towing Service in Batavia. The semi was hauling liquid -- bottled juice.
UPDATE 9:02 p.m. (By Howard): Firefighter David Clor was the initial first responder on the scene and stayed with the patient throughout his treatment on the ground. The driver, who had crawled out the front window of his rig on his own and walked about 20 feet before collapsing, before anybody was on scene, was in a lot of pain, Clor said. Besides the possible internal injuries, he had complaints of head and back pain. "He wanted me to go with him on the Mercy Flight because we bonded a little and he didn't want me to leave his side," Clor said. "When I told him I couldn't fly on Mercy Flight but there was another guy named Dave who was on Mercy Flight and that he'd be taken care off, he was still determined that I go."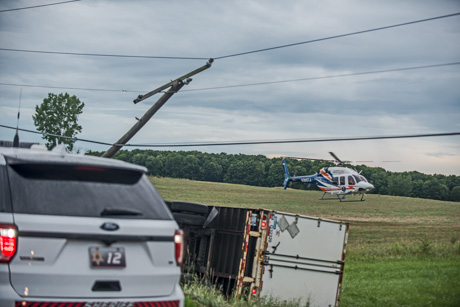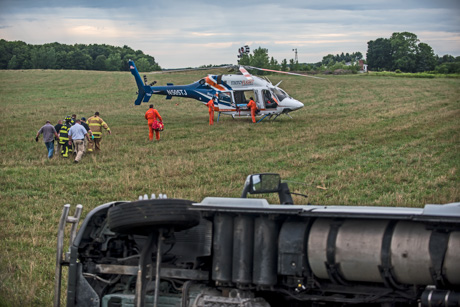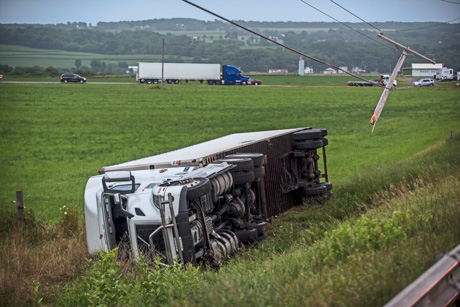 July 25, 2018 - 1:35pm
#1
What a surprise, another accident on 63 involving a tractor-trailer. At least no one was hurt, or worse.
July 25, 2018 - 1:44pm
#2
The driver was hurt but his injuries did not appear life-threatening.