September 26, 2018 - 12:01pm
Botts-Fiorito American Legion Auxiliary Unit names 2018-19 officers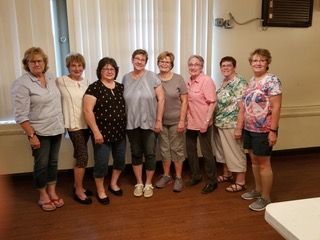 Submitted photo and press release:
Officers for 2018-19 of the Botts-Fiorito American Legion Auxiliary Unit #576 have been selected.
They are pictured from left in the photo above: Ellen Harris -- Treasurer; Donna Mills -- Sgt. at Arms; Linda Horgan -- Historian; Deb Feneran -- Chaplain;
Marlene McCumiskey -- President; Roberta Graney -- 1st Vice President; Pat Moore -- Secretary; and Regina Diskin -- Membership Chairperson.